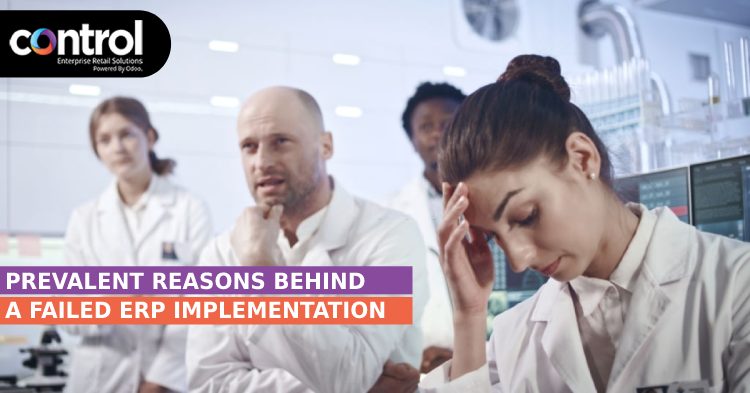 Enterprise resource planning or ERP implementation is no joke. No matter if a business is implementing a sales ERP software or any other cloud ERP software, there are many things that one needs to consider. However, all of that is worth it because the ERP system will bring unprecedented efficiency and accuracy across the organization. But things that are worth the effort also tend to be among the most challenging ones. 
Similarly, ERP implementation can be a problematic aspect which is why so many organizations end up with an unsuccessful ERP implementation. Therefore, here in this post, we will take a detailed look at some of the most prevalent reasons behind a failed ERP implementation.
Ineffective Support From The Management:
As mentioned earlier, an ERP implementation impacts everyone in the organization. It does not matter if someone is a top executive or a simple salesman; everyone will feel the effects of ERP. However, unlike the low-tier executives, top-level management is far more influential in such big decisions. 
Hence there have often been instances where everything related to the ERP implementation was going fine, but the top-level executives were not on board with the idea. That attitude or perspective of the top-level management needs to change as long as they want their organization to grow and prosper. The administration must comply with new changes and facilitate ways to drive growth.
Ineffective Communication And Accountability:
The timeline of any ERP implementation is influenced by two different and important factors: communication and accountability. There will undoubtedly be many additional questions arising throughout the performance, and these queries need to be addressed effectively for a successful implementation of ERP for sales. There should be uncompromised clarity about who is responsible for the critical decisions as this will help the organization waste less time on insignificant matters. 
Additionally, this will boost transparency which will further add to the cause of successful ERP implementation. More importantly, the management will have to communicate about the changes with the end-users every once in a while to ensure that they are aware of the changes. Organizations have to set clearly defined responsibilities to enhance successful ERP implementation chances.
Lack Of Resources:
This is by far one of the most important factors that weigh down the ERP implementation of an organization. Different resources such as the budget can play a crucial role in ERP implementation. As seen in many cases, organizations that have failed to define the budget have suffered because of this reason. Understandably, organizations often choose to implement the solution in phases because organization-wide implementation is not always possible. 
However, when an organization does so, it also has to have an adequate budget for the comprehensive implementation strategy. One can undoubtedly cut corners, but that situation should not arise first. Therefore, organizations must get reliable implementation partners to sort these things out beforehand.
Legacy Rebound:
It has often been observed that organizations will implement the latest ERP in sales management and customize it to resemble the legacy system. The intention behind this is to make it easier for employees to use and get the most out of the new solution. However, this also comes with its own sets of drawbacks because this requires more customization than usual. This further interrupts the organization's long-term goals, ultimately resulting in a failed ERP implementation. 
This over customization is not just expensive during the implementation, but this cost will continue to rise with every new update that comes into the market. Most ERP systems are now offering three to four upgrades every year, so if things continue to go like this, it won't be long before it is no longer feasible for the organization to move forward with any more updates.
Inapt Testing And Training:
Employees being comfortable with the new ERP implementation can significantly influence performance success. Therefore, the management must communicate about the changes thoroughly and effectively. After the difference is finally on the way, the organization must ensure practical employee training. As long as the employees cannot adopt the new solution and learn to operate it, chances are they will be more reluctant towards this change and consequently never use it to its full potential. Additionally, testing is just as necessary as training. The organization must ensure effective testing before and after the ERP solution goes live.
Final Thoughts
Everybody knows that ERP implementation can be challenging, but that does not mean that it is impossible in any way. Therefore businesses need to take appropriate measures and precautions to ensure that everything goes smoothly without disruption. It always helps to think of ERP as another sales software not to get too overwhelming.