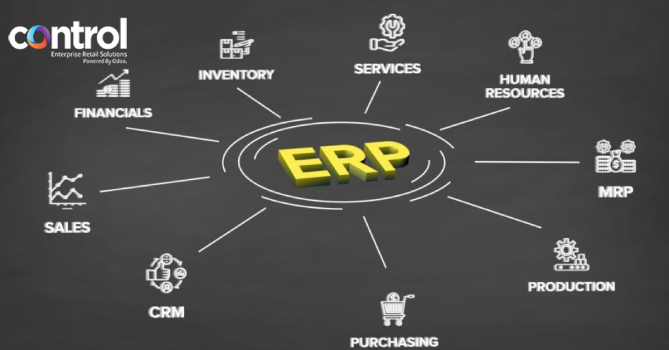 A business organization's future is determined by its willingness to compete with the market. Where it is the biggest hindrance to that organization, it becomes a more critical deal and the only way to survive the possible problems that might emerge in the future. 
Whether big giant companies like Amazon, Myntra, or any start-up, Enterprise Resource Planning, popular;y known as ERP, comes to the rescue to help the companies stay ahead in the race.
In 2020 the global ERP software market value was $94.71 billion. The value of ERP is expected to reach $96.04 billion by the year 2024.
Definition Of ERP
If you are wondering what ERP software is, then read here!
ERP software helps to keep every aspect of a business closer than they have ever been. It lets people stay connected. People who work in different departments of the same office usually do not get to stay connected.
But with ERP, not just the production or supply, but employees can offer their valuable opinions.
When it comes to productivity, it is a whole different story. By using ERP software, business organizations can collect different data, manage them and use them for their benefit. For example, if a team member gets a bonus for achieving a target, the ERP system is capable of storing the information.
Likewise, HR can take the help of this software to know the details about an employee. It also goes well for order management. 
Using this software, you can see the status of every order, such as the date of placing the order, delivery date, feedback, etc.
At this point, you want to know what ERP is and how it works. ERP systems can track all the details of an organization. For example, it can track a company's production capacity, supply of raw materials, inventory, marketing planning, etc. Therefore, helping a company increase its operational efficiency helps the employees focus on other essential tasks.
Why Do Business Organizations Use ERP?
The ERP system has been in existence since the 1960s. But the installation of Artificial intelligence, and machine learning, has increased its capability of supporting a business with more efficiency.
What is ERP? This question says a lot about its benefits and why companies are keen on using cloud ERP software to run their business. So here, we have mentioned some essential reasons for using the cloud ERP system in various business organizations.
Why is ERP important? 
This question brings our focus to data management. Data management is one of the fundamental reasons for using ERP in a business organization. Just think, a business has to manage every detail of an employee: productivity, profit margin, business plans, order status, etc.
You must understand that it is a tough job and requires a workforce. Here you get to know what ERP is used for. An ERP system automates and stores data on its own, helping the employees focus on other productive activities.
Competition is an integral part of a business. That is why every business wants to adapt to the new changes in their fields. Those recent changes usually challenge companies to make fast decisions. That is when you understand what ERP is in software. 
ERP helps the company by providing an overview of the business and spotting new opportunities. Since it is now equipped with a machine learning facility, it can predict upcoming trends and help stay ahead of the competition.
Whether we talk about big business companies like Amazon, Tesla, Microsoft, etc., or emerging start-ups, every business has one thing in common. They need finance to keep going. From producing products to supply chain management, a company must keep all the financial details up to date. If you miss out on one transaction due to some discrepancy, it can cause a massive loss to a business. 
Cloud-based ERP solves this inefficient data management and helps to keep every piece of information intact by using automation. It creates a data web between different branches of the organization and ensures accuracy by providing real-time reports on finances.
Besides producing products and supplying them to the potential market, it is also important for an organization to keep its customers happy. Cloud ERP software provides a clear view of the performance of different sectors of your business, enabling the company to understand the customers' demands. 
It also helps the organization improve the customer experience by providing them with the opportunity to get connected to the company directly.
Fundamentals of ERP
As you already know that ERP cloud solutions are associated with relational databases. Its primary function is to gather various information for a particular agency or organization and store that information in a data table.
Since ERP is famous for applying automation processes, it organizes the data and gives a simpler view of all the information. Therefore, any e-commerce business, IT sector, healthcare industry, etc., can use ERP systems or cloud ERP solutions to manage their work.
Impact of ERP
ERP software helps provide excellent supply chain management by allowing the manager to stay connected to the suppliers and customers.
ERP cloud solutions can standardize complex business processes by providing different data-storing processes for finance, payroll, customer management, product supply, sales, etc.
It helps every company to help maximize its profit. Simplifying complicated tasks and installing the automation process decreases the cost of streamlining tasks.
By using cloud ERP, an employee can stay connected to all the team members of the same department. It helps the team members to stay productive.
ERP systems can understand all the changing regulatory policies in the company to make sure that the company stays up to date with all the rules and policies. That is how it helps organizations to avert any legal penalty.
How Can ERP Help To Grow A Business?
If you know what is ERP system is, you must understand that it creates collaboration among the various departments of the industry, which helps the company grow.
By keeping all the data intact and up to date, ERP software helps an organization reach a decision rapidly, resulting in cost reduction.
ERP provides comprehensive insights and every detail of the business. In this way, the organization can easily find if there is any discrepancy or need for improvement.
ERP software also helps identify the gap in performance and operations, helping the companies improve their performance.
Conclusion
ControlERP, powered by Odoo, is a part of the Brainvire group of companies. With features like order management, HR management, enterprise asset management, estimates, CRM, forecasting, project management, purchase order management, distribution management, etc.
ControlERP helps businesses grow. If we talk about ControlERP or ERP in general, it is the backbone of a business organization.
ERP software helps a business to grow by showing every data in a table format. In simple words, in the era of information, ERP software is the only way to stay ahead in the business race because it shows the profits and the gaps in performance.