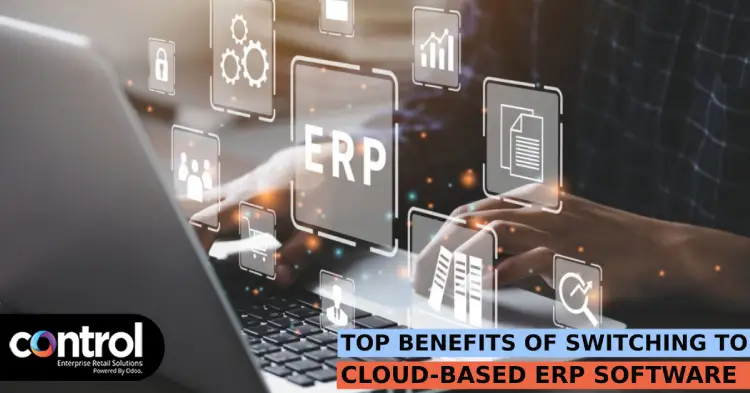 As new businesses and enterprises are coming up every day and expanding, the management process has become very complex and challenging. Different aspects of business management keep them functioning efficiently. Business owners adopt new ways and technologies which can reduce human effort and improve the operating system at the same time. These days they rely on ERP (Enterprise Resource Planning) software to consolidate and organize information across their business.
Since most businesses have gone digital, if not some aspects of it are digital, leading to the cloud systems' rise. These cloud ERP systems resolve many pervasive issues and offer many advantages over their on-site counterparts. This article discusses why organizations should switch to cloud-based ERP for their businesses.
What Exactly Is Cloud ERP?
ERP system is a robust software that integrates crucial aspects of business such as inventory management, accounting, finance management, human resource, etc., making the process more efficient. Cloud-based ERP, unlike other systems, runs on cloud trader servers which are accessed over the internet.
There are many versions of cloud ERP. As IT is the backbone or brain of any business, cloud ERP software provides advanced and enhanced functionality for all the core processes in a business. ERP systems often need to be more flexible to keep up with evolving technologies and business practices. That is why the cloud has become the preferred software deployment option for businesses of all sizes.
Benefits Of Cloud ERP Software
Cloud-based enterprise resource planning offers scalability, flexibility, and ease of maintaining the pace with innovation. It provides a more efficient approach, including letting businesses take advantage of tremendous computing power. Switching to a cloud ERP application ensures lower upfront cost, faster implementation, and rescue human effort.
Businesses can improve even more with cloud-based systems since they are highly adaptable. It allows business owners to shift focus on other aspects of their business and find ways to improve them. Here are a few reasons to switch to a cloud-based ERP system; continue reading to learn more about them.
Lower Cost: The initial cost of installing the best cloud ERP software is significantly lower than any other system, and the ongoing costs are also lower. After integrating ERP for managing the cloud system, the subscription costs can still be lower when you factor in support and maintenance, which is generally 20% of the initial license costs to upgrade and maintain hardware and IT staff required. Eliminating the expenses can be vital to many small businesses that can't afford the high upfront cost.
Maintenance and Upgradation: Since the trader hosts and maintains all the system infrastructure, businesses don't have to worry about upgrades to their ERP system. The cloud providers maintain the servers, database, and other infrastructure and automatically push out patches or new updates to all customers, ensuring that the software is secure and complies with rules and regulations. Subscription-based services of erp cloud systems vendors also provide support 24/7 to handle any problems that might arise.
Access To Upcoming Technologies: Today's technology is evolving faster, so business owners need help navigating through the intense competition. It has become imperative to adopt advanced technologies such as Artificial Intelligence, Machine Learning, advanced analytics, and other technological innovations to survive this competition. However, implementing these technologies also requires a significant investment in data infrastructure. Cloud for ERP provides a faster and more economical way of taking advantage of these emerging technologies. It eliminates unnecessary costs and resource-related obstacles with sophisticated business tools.
Security: Some businesses are doubtful about placing their financial information in the cloud, and most cite security concerns. While some business owners tend to perceive this as a drawback of cloud-based ERP software, the security features of these solutions are still better than other systems. Today's cloud system is highly strong and secure, with top-notch encryption, multi-factor authentication, and other critical security features built into the system. In addition, cloud enterprise resource planning servers are located in secure and centralized facilities, which reduces the risk of physical theft.
Implementation: One of the greatest benefits of cloud ERP is that it's easy to implement in any business. These ERP systems can be deployed and configured significantly faster than any other system, with most taking fewer than 100 days. This is because the trader is responsible for activating the software and hardware. It reduces downtime while the switch is made and allows businesses to operate as soon as possible to meet the growing market demand and adapt to rapid changes.
Real-Time Data: ERP cloud systems deliver real-time data far better than other systems because of the software. Since the information and application are organized in a central cloud central location, the information provided will always be up to date. This is an extremely crucial part of the cloud system for any business. Cloud-based ERP removes the constriction of various software integration points, thus reducing the chances of inaccurate data and forecasts. This helps business owners have access to data that is accurate and organized.
Easy Customization: Cloud ERP systems are easy to configure since everything is done remotely by the company itself. It includes integrating the correct combination of ERP functionalities and third-party applications and making necessary updates. This software is simplified and less expensive as the cloud trader handles the customization process. There is no additional software or hardware expenditure, and no ERP expertise is needed so organizations can design the system that works for them.
Accessibility: Cloud ERP software can be accessed from any device – smartphones, tablets, laptops, etc. that have an internet connection. This makes it possible to load, compile and collaborate on data from anywhere. Cloud ERP software allows different business units or departments to work across the organization's campuses or countries, accessing a single software without needing a VPN. Most importantly, cloud ERP costs significantly less to access, so you don't have to buy and support emulation software or a VPN.
Wrapping Up
ERP cloud is an amazing software that can be used not only for cloud systems but also can be integrated with other aspects of the business. All these benefits make it a worthy investment for many businesses and organizations. So, install it today to manage different tasks with full efficiency and reduce human effort.