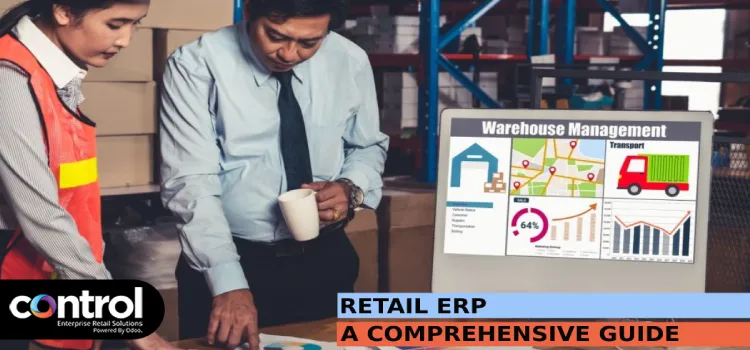 If you are a retailer or run your business, you must understand that you must deal with not one but many issues simultaneously. You have to manage sales and finance, check the stock of the products and restock them, pay salaries to the employees, and of course, satisfy the customers. In addition, you have to do everything that any other industry does. Handling all these responsibilities together becomes tiresome and complicated.
Installing ERP-driven software is the best way to ease the workload and make the company progressive. Though installing ERP for wholesale and retail has become a very appreciated idea all over the U.S., by 2020, at least 44% of retailers successfully implemented the ERP system in their business, while 51% stated that they faced problems while installing and needed more improvement. 
What Is Retail ERP?
Before discussing retail ERP, we need to discuss why a retailer needs ERP for retail. A retailer must manage orders, manufacture products for sale, pay bills, etc. ERP software, in general, helps to get these things done in the simplest way possible. ERP software uses its automation process to collect the data and store them in the table format for the staff to use. But it has a negative aspect too. Since the ERP software has to handle many tasks, it is divided into different modules.
It becomes problematic to synchronize and communicate the data with one another. However, the ERP system for retail is designed especially for retailers supporting only the essential modules required for the retail business. For example, many retailers do not involve themselves in product manufacturing. They collect products from various markets and sell them. In this kind of retail business, retail ERP solutions do not include this module. If you are a retailer, you can use the best ERP for retail without paying for any extra modules that you do not use.
Important Features Of Retail ERP
Inventory management is one of the best benefits of retail ERP software. It helps to maintain track of the raw material present currently. Some tools can allow you to receive a notification whenever you need to restock the raw materials. You just need to push a button and nothing else. These alerts help you to stay notified of the present demand and help you develop a smart strategy before getting stockout.
ERP for the retail industry becomes helpful when you can check every detail of the order. For example, if a customer from Florida has ordered a black tea shirt, two books, and 10 packets of shortbread cookies. You can check the quantity, the address where you need to deliver the products, the date of placing the order, and the estimated date of delivery. You can also see the mode of payment the customer has selected. Now, it is your responsibility to activate your supply chain and keep track of the order till it reaches its destination. 
As we have discussed before, a retailer has to keep track of every single order placed in the store. As a retailer, you have to keep track of price lists, source-to-pay, etc. Getting the purchase approval is also one duty that a retailer has to handle. If you have a Chicago-based business and need to deliver a product to New York or Florida, you must keep track of the truck's route. Installation of ERP systems helps to keep track of the route and rate them based on their performance.
CRM is one of the most important parts of ERP in retail. It can help you go through the client feedback, review if there is any special demand for a product, etc., helping you have an in-depth understanding of what to do to improve the business and implement the changes.
Retail ERP solutions help the company to stay connected to its customers. Whether you want to offer a special reward to loyal customers or you want to allocate them a long-term membership. Using the ERP software module, you can do all these easily. As a retailer, you must know that customers are the ones who keep your business alive. They can sink the business if they want to. So, to keep the customers connected and make them come back repeatedly, you can offer them some rewards and discounts. A regular vendee can inform the close ones, and it can help you create a strong customer base for your business.
Benefits of Using ERP Software In Retail Business
Retail ERP systems offer the customer relationship management tool, famously known as CRM. Using this module of ERP software, you can manage customer data. Whether it is customer feedback or any demand for a particular product and KPIs. CRM helps you handle the clients and strengthen the existing client base. For example, if you see that there is a huge demand for chocolate muffins and doughnuts in Chicago. You can see the sale going high, and if you see the sale of those products going down. You get to understand that the products are not in demand, and you have to find a strategy to make those products to get sold.
As we have discussed earlier, inventory management is one of the most noticeable benefits of ERP in the retail industry. Second, managing the stocking and restocking of the products and raw materials as well. The inventory management module of an ERP system handles order management, supply, tracking the product till it reaches the order address, and of course, shipping. 
Since ERP works on automation processes and does not need any hand-typing method. You can get the complete data of every order along with every detail. The staff of the company can handle this data to fulfill the customers' demands.
When To Invest in ERP
The question of when to invest in ERP software if you are involved in the retailing business is subjective. Honestly, there is no perfect time for investing in ERP software. Because for every business, the time differs. You have to consider two things before going for ERP software: Staff capability and financial limitations. If you have been involved with the retailing business for more than 10 years, you should have a strong customer base to install ERP software.
In simple words, managing finance, customer data, order, and supply chain become more complicated as the business grows. It might get difficult for the employees to handle all the customers. If you see that happening in your company, it might be the right time for you to install ERP software. But if you have just started with your retailing business, you can go for a simpler ERP software or try to handle it without ERP if you can. But as the business grows, make sure to invest your money in ERP software.
How To Choose The Perfect ERP Software For Your Retailing Business
Firstly, understand and consider the reasons why you need ERP software in your company.
You need to talk to the experts, especially the software selection committee members, to get an insight into which ERP tool to choose for your business.
Shortlist the potential vendors.
Ask your vendors to show demos and rate them so you can choose the best one.
Lastly, you have to negotiate the terms and sign the contract with the vendor.
Conclusion
Retail ERP is dynamic and flexible and provides help to the business. Since it has not one but many benefits and features, it can assist a company in satisfying the customers' demands, reviewing their feedback, and providing them with the products that are in demand.