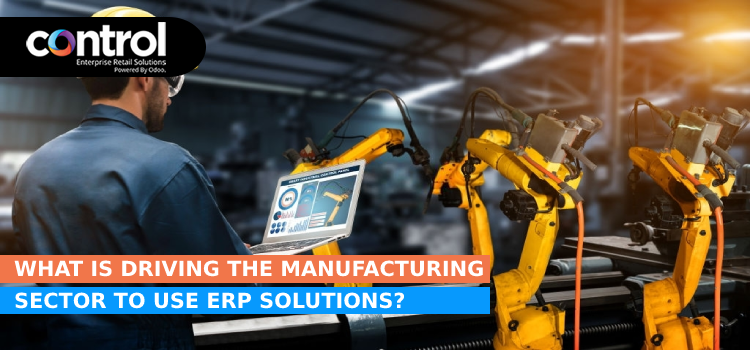 According to a survey by Salesforce for their research on the "Trends in Manufacturing" study, they questioned over 750 manufacturers. As a result, they found that 95 percent foresee a significant shift in the necessity or potential to reimagine their manufacturing procedures ever since the onset of the Covid-19 crisis.
This gradual flow of digital change began after the introduction of Industry 4.0. This progression towards advanced CRM has shown exponential growth with time. The below graphic shows the results from the study, How manufacturers are focusing or planning to focus on enhancing their manufacturing operations: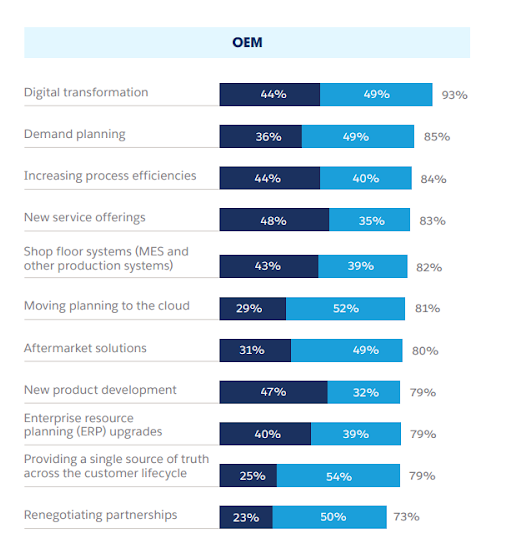 From the above Stat, we can tell that ERP is now a top priority for manufactures. But you must wonder why?
Well, in this post, we will give you the answer as to how sales ERP software has been transforming the entire manufacturing process and how they are benefiting from it!
ERP in Manufacturing
Often these manufacturing companies are aware of the primary advantages of employing a sophisticated solution like ERP manufacturing and sales software. 
Manufacturing and sales ERP software get employed to increase entire manufacturing operating productivity, optimize current operations, improve the overall production plant, and most of all, optimize the sale process in its entirety.
The industrial sector's distinguishing features are generally how technologies like cloud ERP software become the trigger for attaining ROI.
ROI on ERP Manufacturing
Considering the vast array of advantages, when businesses upgrade their systems to cloud ERP software, they first want to know how they will modify and manage current processes to get the most out of their technological resources.
To begin, learn how ROI gets measured in manufacturing for ERP.
From the above diagram, we can understand that Manufacturing and Sales ERP software modifies the processes in ways that it is evident for a manufacturer to gain ROI. Now let us take a quick look at how ERP software assists in improving the different aspects of manufacturing for the betterment of the overall process.
The Road to Better Manufacturing With ERP Software
1. Machine-to-Machine and Machine-to-Human Interface
All of it gets linked via the Online platform in the current cloud-dominated computing environment. Establishing real-time links across the labor and machinery may help manufacturers improve their overall systems.
Once everybody can see the whole assembly line, from the upper floors to the absolute factory floor, competent employees may apply better factory practices to conserve time and energy.
Manufacturers may prevent significant disruptions and inefficiencies by using ERP technology to implement intelligent manufacturing processes while monitoring materials and machinery effectively. Using these strategies will result in a considerable increase in profits.
The Benefits include-
Automated and streamlined business processes with adaptability.
Easy forecasting and reporting
Enhanced decision making
Improved worker efficiency, including enhanced mobility and flexibility
Improved productivity
2. More Effective Supply Chain or Inventory Management
More prominent firms can invest in engaging more people to oversee their inventory. Because small and mid-sized enterprises do not have the capability, inventory issues might result in monetary losses. Bigger businesses require a centralized system that can monitor primary supplies, arriving and departing supplies, and service strategies.
Whenever existing legacy systems falter, a robust, updated ERP system is intended to manage these duties.
ERPs enable businesses to obtain actual inventory statistics, enabling companies to forecast and handle inventories effectively. By assisting producers in more precisely managing inventory, a sophisticated ERP system enhances ROI.
The Benefits include-
Enhanced Data protection
Linkage to the supply chain
3. Building a Strong Skilled Foundation
Once employees are taught ways to employ sophisticated technology and tools, they can undoubtedly assist improve ROI. With the ERP system, it isn't any different. Training is essential once the ERP is linked to snipping technologies like IoT, advanced analytics, intelligent systems, and AI. Businesses can get the most out of their ERP if they have a competent team.
Manufacturing ERP in collab with ERP for sales can also assure improvement in the entire business process, starting from acquiring raw material to satisfying consumer needs.
The Benefits include-
Increased responsiveness to market circumstances
Cost savings
Outstanding customer service
Easy training
Conclusion
As predicted by several experts in this field, no properly scaled businesses can survive without an effective ERP software solution ever. This is particularly true now, after the introduction of Industry 4.0.
ERP in sales management and production integrates corporate technology and data then it enables working with these processes fast and effortlessly for workers.
To get the proper solution, tools, and necessary ERP guidance for your company, you'll need to work with an expert ERP solution specialist or provider.
Every business has its long-term and short-term goals. Finally, it all comes down to how you use ERP software to achieve yours!