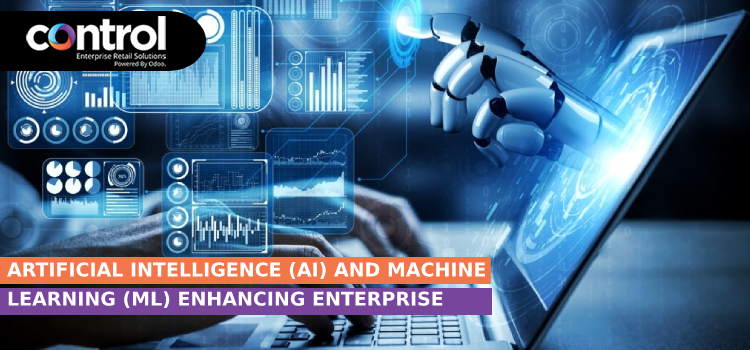 Businesses across the globe are striving hard to revamp the existing technology used in their business. The challenge is to leverage the use of advanced technologies such as artificial intelligence and machine learning.
While the situation at hand might seem to be impossible, there's one solution to it! One of the most effective and convenient ways is implementing an ERP solution to facilitate seamless business operations management. This explains why 88% of organizations claim the implementing an ERP solution helped their business perform successfully.
Source: https://www.webopedia.com/definitions/erp/
Technologies like artificial intelligence and machine learning can be used to make our cloud ERP software much better and efficient. Different capabilities of such programs can prove to be a turning point for businesses as it enables them to leverage opportunities that would have been missed otherwise. Artificial intelligence and machine learning have enhanced sales ERP software and solutions in numerous ways that include:
Automating Time-Consuming Repetitive Tasks:
Irrespective of the type of business or the industry to which it belongs. Nobody in their right sense wants to be wasting money on some time and effort-intensive tasks while having better alternatives available.
Thanks to machine learning, we can now leverage the enhanced capabilities of machine learning technology. This can help businesses save both time and effort while freeing the employees to put in efforts in some other value-driven tasks.
With about 63% of businesses already claiming to use advanced technologies and big data to gain a competitive advantage, it is about time that businesses start leveraging this technology to stay in the competition. Businesses can use machine learning technology to access important insights and metrics to drive better decision-making.
Implementing ERP software equipped with such technology can help businesses get insight into customer and employee behaviors. This knowledge can then be used to devise better strategies to drive better results.
Seamless Management And Utilization Of Enormous Data:
Data management has been a big challenge for many businesses. 83% of businesses claim that data is important for devising effective business strategies, while about 69% of them say that ineffective data management continues to undermine their efforts.
Therefore, having an ERP system equipped with artificial intelligence and machine learning makes it possible to feed the data into AI algorithms and determine patterns. Later, businesses can use this information to devise effective business strategies.
Source: https://www.techrepublic.com/article/data-management-a-cheat-sheet/
Enhanced Forecasts And Predictions:
Forecasts and predictions can be beneficial for enabling businesses to devise better strategies and make better decisions. Algorithms and analytics are ideal for enhancing the forecasting capabilities of the business. An ERP system with machine learning and artificial intelligence can detect patterns in different aspects of the business. This can help minimize the wastage of resources and facilitate the effective usage of resources.
Further, it can help businesses to detect different risk factors beforehand. This way, one can have sufficient time to come up with a strategy to eliminate those risk factors or minimize their impact on the business.
Exceptional Customer Service And User Experience:
An ERP for sales equipped with artificial intelligence and machine learning can provide important insights into customer behaviors. Businesses can use this knowledge to find patterns and provide customers with better-personalized experiences.
Not just that, but this information can also be used to determine the demands of the customers and streamline production accordingly to meet the demands resulting in enhanced customer satisfaction. This can further help businesses enhance user experience and establish trust and credibility among customers.
Enhancing Processes Within The Organization:
It can be very challenging to find an ERP that can successfully bridge the gap between different departments. However, an ERP with machine learning and artificial intelligence can seamlessly simplify and streamline all the processes from different organization departments.
Further, it can also help businesses leverage a centralized platform for reporting, customer relationship management, sales, and product lifecycles. Leveraging these latest technologies can help businesses run their business more efficiently without spending time and resources on reconciling different aspects of the business.
Improved Marketing Solutions:
Technologies such as artificial intelligence and machine learning are equipped with the potential to enable businesses to determine untapped opportunities. One can leverage the insights on customers to devise marketing campaigns that remind customers about making purchases.
There is no limit on how much insight businesses can generate from this ERP Solutions in sales management. This information can then be used by the sales and marketing teams to enhance the revenue opportunities of the business.

Source: https://hackr.io/blog/ai-vs-machine-learning
Conclusion
Businesses in the modern day have no choice other than to implement an ERP solution sooner or later. The business environment of modern times is highly competitive, and the chances are that things will continue to get more competitive with time. Therefore, human ingenuity is not enough, and businesses need robust ERP solutions equipped with the latest technologies such as machine learning and artificial intelligence. All in all, bid a farewell to the existing technological strategies and update to the latest generation, to fuel the growth of your business.