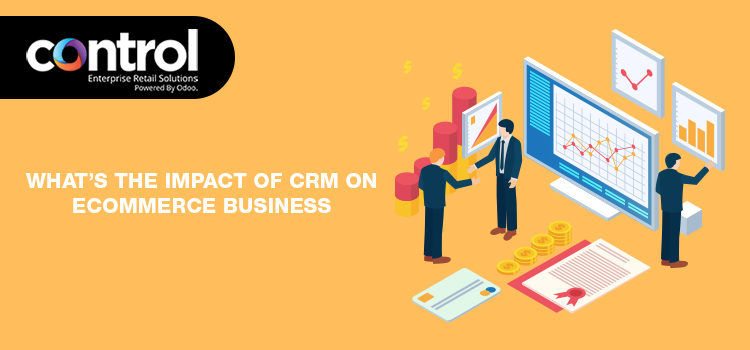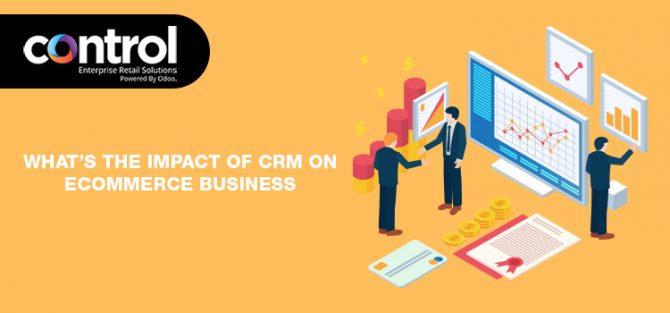 CRM is an integral part of almost every business. Budding businesses in the retail industry are making the most of this information. This information helps you to manage the overall eCommerce business.
This article will help you understand the following essential concepts-
What is the impact of CRM on eCommerce business

?

What Is CRM?
CRM is an amalgamation of resources such as ideas, strategies, and practices that allow businesses to build healthy and long-term relationships with their customers.
A good CRM software for eCommerce can help you attain business objectives. CRM software can be also recognized as a digital journal with improved features. This digital journal offers you timely reminders and helps you carry out several business activities.
CRM for eCommerce primarily helps you to:
Organize data

Manage business activities

Current business situation

Business relationships

Potential sales

Foresee business opportunities

This software gives you the right ability to manage existing and potential customers through a single platform. It also provides you with detailed information of your customers that can be used optimally to grab their attention.
What is the impact of CRM for eCommerce business

?

CRM software can help businesses in several ways. However, it predominantly depends on the nature of your industry and your business needs.
Discussed here are some of the impact that it has on eCommerce business-
Enhanced Customer Experience
You can provide an order status facility to your customers.

Improved inventory checks and shipment tracking.

As an online retailer, you can offer an Omni-retail channel.

Shorter sales cycle.

Integrate CRM with other tools.

ERP with eCommerce CRM can help eliminate manual errors, streamline the sales process, reduce cost, and improve customer experience.
Enhance Sales Team Performance
Every business that involves customer services can reap the benefits of CRM integration. A plethora of customer information can help understand the consumer better and implement effective services.
You also get access to customer history, products reviewed, and such other information. This helps your team to implement the cross-sell and upsell tactics at the right time.
B2B eCommerce businesses can also take advantage of this information. They can have better-negotiating power with customer history to back them. 
Effective Marketing and Promotional Tactics
eCommerce businesses no longer have to work or install multiple systems to acquire consumer data. A single software can record, store, and update all the customer information.
This helps your team to plan out your business for the right target audience. Customer history offers them accurate information about the right time to execute the plan.
Your customers are likely to be pleased with the increased number of customized emails and messages that they receive. This kind of tailored and effortless marketing is possible only through CRM.
With the constant inflow and outflow of the products, it is tricky for an eCommerce business to maintain precise records. CRM systems can effortlessly update this data.
Besides, it can also provide you information about the products that are in high demand. You can store an increased number of products that are in demand. The actual sales data can help determine future sales.
Integrate your CRM system to enjoy additional perks. It helps you to reduce manual mistakes like typos or incorrect data-entry. An error in manual data entry can have a huge impact on your inventory and overall sales.
However, CRM integration can help eliminate this situation and can save your business from any additional costs. Besides, you can invest in only products that bring you profits. This way, you can eliminate loss-making products from your inventory and save costs.
Every eCommerce should provide this service. It helps you to –
Improve sales

Encourage customer loyalty

Enhance customer life value

eCommerce businesses have the potential and capability to reach their audiences in the form of after-sales services. This can help you to know whether your customers enjoyed your services or not.
Based on their responses, you can make alterations in your services, sales cycle, inventory cycle, and other management.
An automated, quick, and smooth eCommerce business can help you to invest time in planning the right strategies. You have the scope to alter your strategies based on the current market scenario and execute them successfully.
This will allow you to stay ahead in your market. You also have a chance to predict future expectations. You have sufficient time and resources to prepare your business to meet future prospects.
Conclusion
CRM also gives you adequate time to make wise business decisions that earlier were taken in haste. It manages all your business activities and provides you adequate time to make the right business decision. There is more clarity among team members.
You can always seek guidance from an expert to recommend you a suitable CRM software based on the nature of your business.