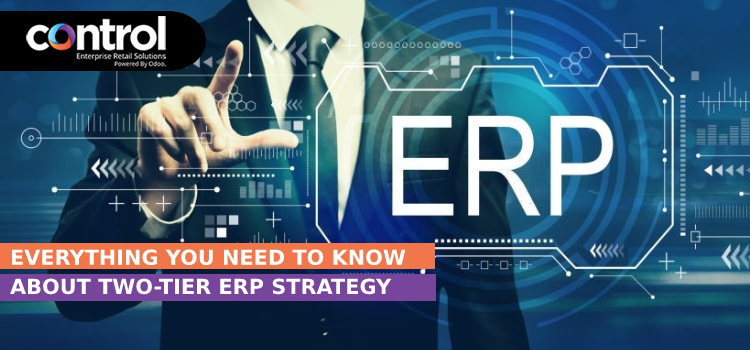 Managing a company is a lot of hassle, and with passing time, the amount of data associated with every process increases exponentially. It becomes humanly impossible to manage all this data without any artificial support. 
This is where an ERP (Enterprise Resource Planning) system comes in. There is a wide variety of ERP options available, and we will be discussing specifically two-tier ERP in this article. We will also be getting to know a bit about sales ERP and how they affect a company's performance.
What is a Two-Tier ERP Strategy?
The two-tier ERP system is made to cater to two different parts of a company. This allows for a clear distinction of the roles of different individuals working in a company. The ideals behind this management is simple, not everyone should have equal access to all data, and a two-tier ERP system ensures just that.
The management team or the higher authorities responsible for taking major decisions have access to internal details and insights as they use tier 1 ERP. However, smaller branches of employees and other staff have selective access to data, as per their job role, so they use tier 2 ERP.
Having a two-tier ERP is very beneficial as it allows the company to manage and monitor data flow in their company. Data usually flows from tier 1 to tier 2, and the people at the highest position determine which data to send to the smaller subsidiary branches. This type of data management ensures that only one source of truth and the data received in these tiers can be completely trusted.
So, a two-tier ERP strategy helps simplify and divide the workloads among different levels of a company. The group of individuals relying on tier 1 ERP is concerned with supply chain management, finance, and human resources. Whereas the tier 2 dependent employees are responsible for managing erp software and marketing.
What is the Benefit of Using this Two-Tier ERP Strategy?
Using a two-tier ERP system is very beneficial for an enterprise. It can help maintain data flow and properly make a distinction between the different sectors of a company. This also simplifies managing processes that are spread across multiple countries. Also, many problems can occur while using a one-tier ERP as it is much more complex. Integrating one-tier ERP may not always be the most feasible option as a large amount of time is used to make the employees learn about the new systems.
Following are some of the key benefits of using a two-tier ERP,
Customizable – This feature ensures that both big and small businesses properly use up the ERP system. Small businesses do not have very intensive needs from a resource planning system, and the two-tier system provides this flexibility. A parent company with a subsidiary smaller company where smaller companies selectively target a group of people, then using a two-tier ERP will help run both the companies smoothly on one platform. 
Reduced Expenses – As discussed above, when big companies have a large number of subsidiaries, then having a two-tier ERP helps. It allows the companies to use the same two-tier ERP but with a significant distinction between the different businesses to manage their data properly. If a single-tier ERP were used, then it would've been very costly to have an ERP for every business.
More User-Friendly Experience – Single-tier ERP is not the best for companies as they have a steep learning curve. As all data is present in one single platform, many security measures are taken to provide each employee with selective access. This is crucial as employees are not willing to invest a lot of time into learning about the ERP, so a two-tier ERP is the most favorable option.
Importance of Sales ERP Software in an Enterprise:
As the ERP demand is increasing and is expected to reach an overall valuation of $49.5 billion by 2024 and 33% of these companies are actively using sales ERP software. It is high time to have an understanding of the importance of ERP sales in a business. 
An ERP for sales software helps plan how the resources can be used to increase sales of a particular business. The sales ERP ensures that live inventory monitoring is done to understand the available resources and gather more if they run out soon. This level of involvement of ERP in sales management helps in better decision-making processes and allows the system to have a certain degree of flexibility.
Conclusion:
ERP is an essential component for any business as it helps manage such huge amounts of data very easily. As can be seen from this article, two-tier ERP is far more acceptable by industries due to its ability to segregate employees. Apart from this, sales ERP software is also of great importance for the growth of a business.