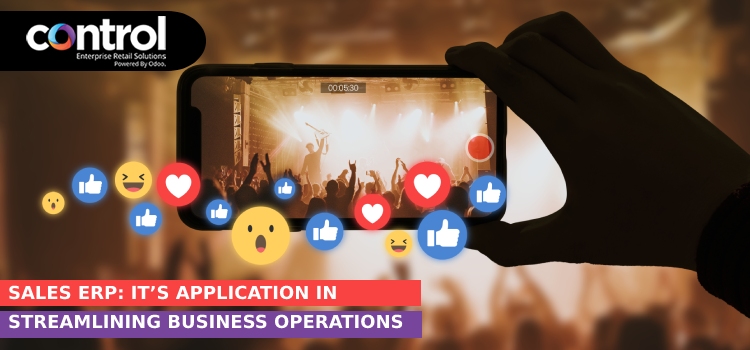 Sales ERP is an application that streamlines and automates business processes and offers internal control and insights. It relies on a central database that compiles data from different departments like accounting, human resources, sales & marketing, manufacturing, and supply chain.
ERP software not only benefits business owners but also assists purchasers throughout their purchase journey. In this piece, you will find how an ERP works for a purchaser and what are its benefits.
What is ERP?
ERP in sales management stands for an application that streamlines and automates business processes and offers real-time accurate data to help in the purchasing process. The information is stored in a central database and helps leaders to gain visibility across cross-departments to discover process improvements, analyze various scenarios, and produce higher efficiency gains. All the functionalities of an ERP contribute to cost savings and better productivity as people don't have to dig deeper to get data.
ERP Systems vs. Software: 5 Key Features
The below-mentioned features differentiate ERP software from other software.
Common database- Many advantages stem from the centralized data storing technique. This single source of data eliminates the need for a manually integrated database.
Integration of business processes- An ERP must integrate multiple business processes whether related to supply chain, accounting or marketing.
Uniform UX/UI- Across different job roles and departments, every person uses the same user interface and has a similar user experience.
Automation- ERP automates repetitive tasks like order processing, invoicing, reporting and payroll.
Data analysis- ERP can break down information silos helping in using the data in any part of the business.
Benefits of ERP for purchasers
Simplifying purchase processes
The purchasing process requires a lot of effort and time, creating tracking numbers, checking inventory, preparing a purchase history, coordinating with vendors, and the list goes on.
What ERP does? It makes the process easier by automating purchase processes and providing valid real-time data. An ERP is consistently managing the inventory levels no matter what you do so that you know what stocks are left and what needs to be ordered. Plus, most of the ERP allows businesses to create a PO just with a tap.
ERP helps you to be organized, keeping a track of what parts are needed to complete a job. A decent sales ERP software also includes an automatic reorder feature. This feature will let you know when a stock is about to get over and notifies you to place an order. Or even better, one can set it in a way that automatically places an order for you.
Managing supplier relationship
For the purchasing department, managing good relations with suppliers is one of the biggest tasks. Employing ERP can help in creating better connections and also facilitates communication. ERP can help in creating a robust database, it is vital for every manufacturer that orders different parts from different vendors.
The ERP stores names, addresses, material offered, and also tax identification data. You will always feel positive about the correct information, making it easier to fulfill orders and requests.
ERP can handle your supplier interactions and streamlines the process by using a purchasing portal that is completely integrated with your current tasks and inventory. It also allows making simultaneous pricing inquiries for various items to different vendors and receiving quotes without having to re-enter the details.
Enhanced supply chain management
ERP automates and simplifies purchasing tasks, leading to increased productivity but also boosts the supply chain cycle. During the pandemic, the supply chain process experienced delays and disruptions, making procuring goods very difficult at this time frame.
Here ERP works as a one-stop-shop and offers manufacturers a compact and holistic view of the entire supply chain. Allow manufacturers to make informed procurement and purchasing decisions.
There are many ways ERP is improving supply chain management, some of them are:
Improved flow of information among different department inside a company
Integration of business processes
Building strong connections and collaborations with outsourcing vendors, supply chain partners, and consumers
Better inventory management
Simplifying purchasing processes
Rises the ability of manufactures to analyze or evaluate a vendor
And efficiently organizes the complex supply chain system
Why do Purchasers need Sales ERP?
Enterprise resource planning makes the purchasing process easier by automating purchasing processes and providing real-time data to ensure you always have stock on hand.
Especially in custom or ETO manufacturing ecosystems, the purchasing process becomes complicated. In a standardized manufacturing ecosystem, raw materials are required consistently. But in custom units, this process lacks and is coupled with a long lead time, which often orders before the product is ready to sell.
Most of the time, the purchasing department is blamed for the delay and issues that are not their fault. This leads to unwanted conflict and contention in the store. An ERP Solutions eases the problem by simplifying the purchase processes, offering an accurate product checklist to procure, monitoring inventory levels automatically, and regulating vendor relationships. The curve in the graph below tells the success story of ERP.