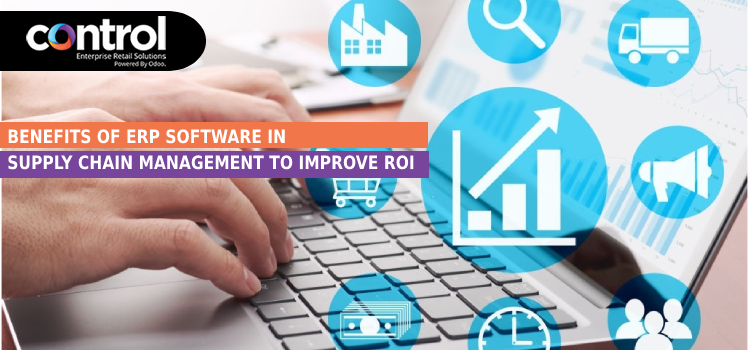 In recent years, organizations have started using intelligent technology and software for the automation of their enterprises. Companies are now willing to transform through time, adapt to different market developments, and stay nimble.
To keep up with the ever-changing market, companies need to automate and simplify overall processes. And with ERP Software solutions, enterprises can organize data and information, integrate different databases, streamline workflow and optimize procedures.
Similarly, ERP Sales software systems have also proven to be an efficient supply chain management tool. It is due to its capacity to connect data and operations throughout a company.
What is Supply Chain Management?
The Supply Chain comprises mostly providers, producers, distributors, distributors, and customers. It seeks to satisfy the requirements and distribution of various commodities and services profitably.
Supply chain management requires designing, implementation, supervision of demand forecasting and assessment. The objective of supply chain management is to strengthen the confidence and cooperation between suppliers and customers. With ERP solutions, you can smoothly establish the unified value chain process.
With the advancement in the use of technology in different business processes, the market for Supply Management sales softwares is also increasing. Turnover is estimated to be US$17,144.51 million in 2021 in the supply management software market. The inflation frequency (CAGR 2021-2025), estimated at 6.53 percent, is predicted to culminate in a global volume of US$ million by 2025.
Growth of ERP
The use of ERP softwares has also increased so significantly that the global revenue for ERP Softwares is likely to hit 43,165,29 million US dollars by this year. And market predictions claim that the worldwide value of the ERP software industry would reach 78.4 billion dollars by 2026. In the coming five years, the ERP worldwide market value will climb by more than 8.1% CAGR.
Integrating ERP and SCM
Integration is the prime feature of ERP in Sales management and supply chain management. It combines relevant information and processes from all enterprise operations. When connected with SCM, ERP will aid companies with development, protection, and adaptability, which current markets need.
An ERP solution addresses tangible components of supplying, which include warehousing and transportation. It also looks over the marketing aspect for efficient customer demand and supply management. ERP provides benefits for the whole process. It begins with the acquisition of materials and operates till the distribution of products.
An effective ERP system coordinates three vital flows of SCM: flows of data, product flow, and monetary flows.
Using ERP as a part of  Supply Chain Management
Sales ERP plays a vital part in improving effectiveness and providing employees the optimal productivity. If you can use this addition properly, then the integration of ERP and supply chains may work spectacularly.
From production procedures to finished goods distribution, ERP simplifies numerous SCM operations. Sales ERP applications make sure that the supply chain is less disruptive.
STRATEGIZING & DEMAND MANAGEMENT
An ERP technology is connected to the SCM to accept orders to create demand.  It optimizes the SCM process by offering efficient project planning functions. It assures uniform manufacturing and the timing of delivery.
ACQUISITION
ERP successfully manages transportation management and different implementation procedures with production and warehousing operations. It streamlines the communication among suppliers, manufacturers, and consumers and monitors all steps.
PRODUCTION
ERP, a comprehensive tool, updates production schedules and assignments to meet all required changes to guarantee timely completion of the manufacturing process.
PRODUCT DISTRIBUTION
ERP system supports the maintenance of a centralized customer shipping database and all distribution data to guarantee the dispatch of things is on schedule
Significant Benefits of Using ERP for Supply Chain Management
Applications focusing on ERP for sales are used to perform multiple operations.  And for a variety of purposes, this is particularly useful for supply chain management. It has a significant job to perform in providing excellent performance in supply chain management. A few of the advantages of ERP for SCM are described below.
Better Productivity
It enables you to monitor your transactions that will assist in managing the finances much more effectively.
It contributes to making strategic decisions.
It assists in minimizing downtime.
One of the main advantages of ERP is how much it helps increase the complete enterprise's sustainability.
Another benefit is that it significantly reduces inaccuracies and errors.
It minimizes the cost that allows your company to achieve the most significant outcomes and revenues from its work.
Other significant functions of ERP in SCM
Integrated ERP solutions may improve the capabilities of a business to offer excellent customer service. This, in turn, builds a better reputation on the market and ensures a raised ROI.
It has revealed the tremendous 278% increase in industrial inquiries for ERP software during the first quarter of 2020. Apart from Covid-19, the primary factor for this is the ERP system's ability to reduce the consequences of disrupting, unexpected occurrences.
Are you looking for a Qualified ERP professional to help your business?
Schedule Your Demo
Conclusion
ERP has already become an integral element of companies and nearly all major industries. They are frantically used for various advantages to the populace. The most significant advantages and functions of ERP in supply chain management are listed above. 
Go forward and now apply ERP to get your company to greater heights.