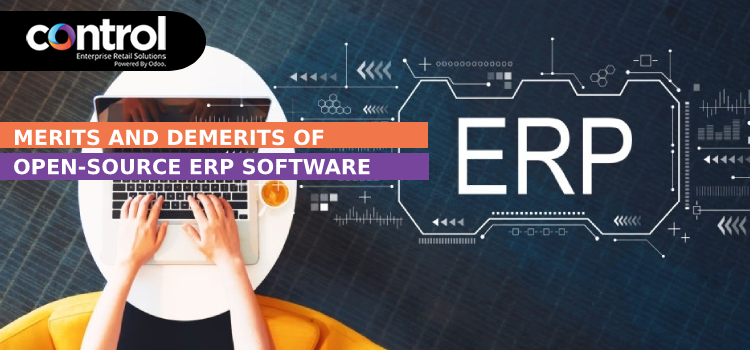 The worldwide ERP system market value reached approximately $94.71 billion by 2020.
This demonstrates that companies are becoming more reliant on enterprise resource planning (ERP) programs more now than ever now. This all-rounder technology accelerates productivity and teamwork and has practical functionality in the different operational aspects of business, from finance to sourcing to distribution.
Although the high fee structures of ERP solutions are often exorbitant for small and medium-sized enterprises. Smaller companies are failing to profit from highly configured ERP programs. This is the prime reason behind the increasing popularity of open-source ERP systems.
Open-Source ERPs offer an affordable substitute to several companies, especially SMEs. It is versatile and scalable, allowing firms to spend their resources only on the necessary assistance and modifications.
What is an Open-source ERP System Solution?
Open source ERP system software is an asset management solution of open source. Businesses can freely access the open-source code. It also allows the enterprises to personalize applications independent of the provider.
Perk Of Using an Open-Source ERP Softwares
Affordable Fees
According to a report from 2019, about 30% off of companies choose open source ERP systems for lower TCO.
Commonly, ERP solutions cost between $75,000 and $750,000, for SMBs. The fee for bigger businesses is much higher. This significantly higher expense is what hinders several businesses from investing in ERP technology.
The budget-friendly open-source ERP system solutions do not demand any such absurd license price for their encryption keys. This allows businesses to update and configure the applications freely.
Freely customizable
Open-source programs can be modified and adapted to suit the specific demands of your company. Open-source softwares offer a massive array of configuration and customization methods. Hiring an external ERP expert may make the process smoother.
Investing resources in customized ERP device implementation is far more realistic for SMEs than recruiting business experts for ERP Solutions.
High Quality
ERP implementations provide high-quality coding as they are based on existing open-source software evaluated by multiple individual programmers.
Advanced Updates
A large number of programmers contribute to an ERP program collectively and actively improve codes. Hence, timely updates are provided to an open-source ERP to keep up with the latest ERP trends. All open source applications include a series of critical databases which remain untouched at any upgrade.
Control ERP Implementation Pace
Businesses who wish to trial an ERP solution must usually approach a supplier, order trial demonstrations, and organize a briefing. It is very time-consuming.
Businesses can use a freely accessible website to navigate open source ERP code and review the program.
The hurdles of Open-Source ERP Softwares:
Lack of proper Support
One of the most significant drawbacks of an Open-source ERP solution is their almost non-existent Customer support standard and availability. Most businesses run the risk of not being helped with troubleshooting or any other effective forms of support.
Absence of Documentation
User testing is a significant move forward, and it includes supporting documents of how clients run the ERP program. This documentation is provided on most commercial platforms, although this kind of documentation content can be scarce or absent for open-source applications.
Need for an Expert
Businesses wishing to deploy open-source ERP applications require an on-sight IT personnel with extensive technology and ERP experience to develop and establish modifications efficiently. Several organizations, particularly smaller enterprises, may be unable to adopt an open-source system with their existing technical skills.
Extreme Customization
The introduction of the ERP is a lengthy and complicated procedure. And if there is an error during the prep phase, businesses will lose substantial time and resources. Since open-source ERP systems provide many customization opportunities, businesses must provide specific guidelines for their necessary features.
Is Open-Source ERP Softwares free of all cost?
An open-source ERP solution is 100% free. A self-hosting on-premises system might be the right option for you based on the business size and scope. You will be able to use the app completely free of charge.
But if you are looking for a cloud-based solution, you might have to bear VPS charges of about $40/month and be required to pay separate fees for protections and backups.
Open-source ERP programs initially come with only the fundamental features. Users can choose to incorporate or spend for the needed functionalities and advertisement-free packages. But these might also come at a cost.
The distinction between Free, Paid, and Open-Source Solutions
| | | | |
| --- | --- | --- | --- |
| | FREE | PAID | OPEN-SOURCE |
| Brief description | Shorten and simplified system with limited feature | Licensed software directly from the manufacturer | Publicly available source code |
| Target consumer market | Small scale businesses | Medium to large enterprises | SMEs and IT companies |
| Perk | Free | Powerful features | Community backed |
| Disadvantage | Limited functions | High cost | Advanced IT knowledge requirement |
Best Open-Source ERP Softwares :
Metasfresh
Compatibility: Windows, web-based, cloud, SaaS
Customer support: Phone during business hours, online, 24/7
ODOO
Compatibility: Mac, Windows, Android, iOS, web-based, cloud, SaaS
Customer support: Online, phone during business hour
Openeducat
Compatibility: Android, iOS, Mac, Windows, web-based, cloud, SaaS
Customer support: Phone during business hours, online, 24/7
Introducing an ERP system can be one of the vital choices that your company might go through. But if you are willing to modify and upgrade your system conveniently and prevent being restricted by a vendor, then an open-source ERP solution is the answer. So, you need to arrange resources and plan to implement an open-source ERP software that can be used to handle your marketing, budgets, HR, and client service through one unified platform.