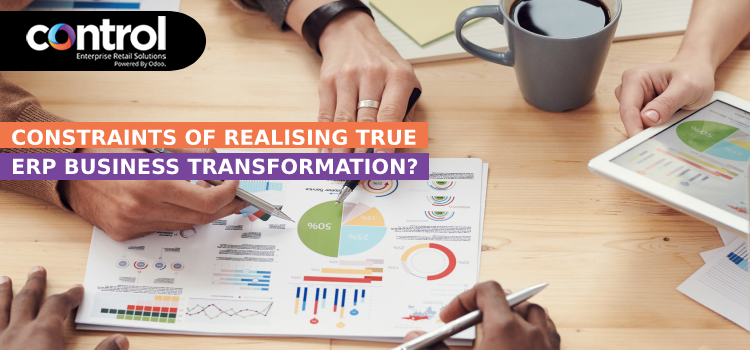 The selection and implementation of new enterprise technology is often the first step in a new venture, realizing its true potential. It is also the first step in overcoming the many challenges associated with implementing a new ERP system. 
Many companies start with a blank slate when implementing an ERP system. They often get overwhelmed by the complexity of the technology landscape and the limited scopes.
Several challenges arise during this extensive journey of ERP business transformation, as mentioned in the following part of the article. But before moving ahead, we must first learn a little more about ERP software and technology.
What is Enterprise Resource Planning?
ERP or Enterprise resource planning can be defined as software that helps organizations manage their everyday operations, such as project management, accounting, risk management, procurement, supply chain operations, and compliance. A complete ERP suite consists of various components such as enterprise performance management, reports on organizational financials, budget, etc.
ERP systems enable organizations to collect and store various data from different sources with distinct business processes. This method eliminates data duplication and provides a single, reliable source of data collection.
At present, enterprise resource planning for ERP systems is essential for running businesses of all sizes.
The global ERP software market will grow at a robust rate to reach the market value of 97 billion US dollars by 2024. The following chart shows the expected ERP software market growth in the next few years.
Reasons to use an ERP solution software.
The main goal of ERP software is to improve efficiency, Foster a culture of collaboration within the organization, etc., to improve overall productivity and minimize cost. The following list is a few advantages of ERP software.
Increase efficiency
Promote collaboration
Increase data security
How to comply with industry regulation
Allow making an accurate forecast
Increase operational flexibility
Reduce operational cost
The significant constraints of ERP business transformation
Three major roadblocks prevent a business from achieving true ERP transformation.
Resource constraints: There could be multiple reasons why your company is struggling to find the right resources to support a complete digital transition. The prime priorities are Budget, Time, and staffing; these can easily withhold the transformation from proceeding.
Technology Overload: To jump-start the process of technological transformation within an enterprise, they use weaving demos of your being, for example. Demos of today's technology can get overwhelming for employees, especially if they don't understand the features and functionalities that are now available. For this reason, several people take assistance from ERP consultants to help them understand the solutions, features, functions, and technological platforms that are available in today's marketplace.
Resistance to change: Mature and professional organizations might show more resistance to change when it comes to drastic changes in processes such as ERP implementation to transform the business process. Resistance to change can be seen in most organizations. It could be that the people responsible for implementing changes are not ready for the changes and are afraid of unknown risks. The change management process of the organization comes up with solutions and systems to fight against user resistance.
How to Improve the approach towards ERP Business Transformation
Instead of focusing on long-term improvements, most teams tend to focus on short-term results.
But this does not satisfy the ultimate organizational needs. Most things will be happy to have survived the first stage.
However, it is at this point that they realize that they spent a lot of time and resources implementing a system that doesn't deliver the same functionality as their previous one.
So, here are some ways in which the constants of ERP transformation should be handled:
It is advisable to hire an ERP consultant to use different methods to achieve true transformation. An ERP consultant firm can help to maximize the value of evaluation, implementation, and selection of each enterprise technology and drive the business process transformation.
The secret to success is genuinely documenting the organization's future state and communicating this to the rest of the team.
The team can then define the future state by analyzing the current state of processes and cross-functional processes. This step can help identify areas where the team can improve and extend the capabilities of their existing ERP systems.
Creating a vision of the future and defining the project's business value are the key elements to implement and Control ERP systems successfully.
The foundation of successful business process improvement is clear and consistent. This will help minimize waste, improve efficiency, and reduce the time to benefit from the project.
Ready to deal with the hurdles arising while using ERP software solutions to transform your business? If you are still not ready yet, it is wiser to appoint an ERP consultant to help you with the task.