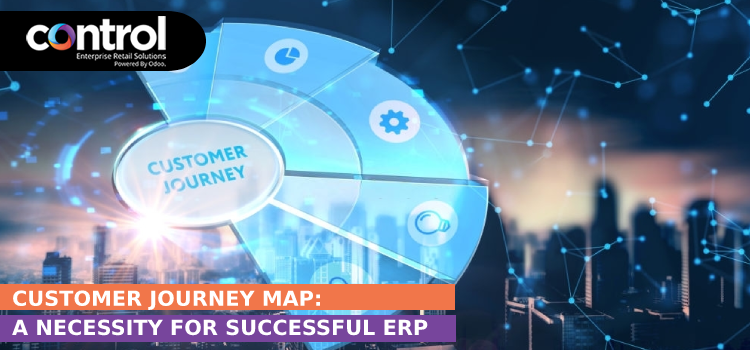 The needs and demands of customers keep on changing. Currently, with the introduction of more competitive companies in the markets, the demands are very fluctuating. Having just a fantastic product does not make the cut anymore! Brilliant customer interactions and satisfying client expectations are the need of the hour, driving a business towards success.
But, what ways should you adopt to attract more customers and generate more revenue from them? Well, to begin with, customer journey mapping is an excellent start.
A Customer Journey map is one of the hit ERP Trends of 2021 that enables you to comprehend the motives behind your consumer choices and then helps you read into their actions.
Here, we have examined the key features and phases of the customer journey map. We have also pointed out how a well sketched-out customer journey map can help you effectively Control ERP processes of your Business.
What is a Customer Journey Map?
A customer journey map shows the actions that a prospective client takes to achieve a target. It is a solution that allows businesses to visualize the consumer perspective of engaging with the company. The map is essential as it encourages you to see exactly how the customers view your company, in reality against what you assume. This way, you can more effectively fulfill their demands by recognizing your clients.
Such mappings are valuable as they show the different contact points of consumer loyalty that the clients have with a company.
The User Persona
A purchaser or client individual is your intended audience's fictitious representation. You could do the research material and statistics on their existing customers.
Let us take a look at a buyer's persona –
Source: Marketsplash
The different stages of Journey mapping
Stages are indeed the basic steps that a prospective client passes when they are first introduced to your company or business and when the customer decides to make a purchase.
Illustrations of the several phases of the purchaser's journey:
Responsiveness: The phase of consciousness is when you recognize that your targeted demographic has an issue that has to be remedied. They get acquainted with your goods and/or services in the quest to address their specific problems.
Evaluation: After one prospect identified its problem and investigated its possibilities. They may get interested in your products or services once they become acquainted with your brand.
Choice: A prospective client has reduced its possibilities and chosen a resolution.
Image Source: Marketsplash
Customer Touchpoints
Touch-points are instances of interaction or engagements between a prospective client and your ERP Solution business. An instance may be someone who views your business ad campaign on any online site, reads a rating of your online stores, or comes through a search to your regular newsletter email.
Every point of contact affects the experience and therefore the behavior of the client. It is important to define these since you can choose to modify your content to fit the material that rings true to your clients. You can then concentrate on developing customer-friendly content.
Are you looking for a Qualified ERP professional to help your business?
Challenges or Pain points
Pain Points refer to the numerous expected as well as unanticipated problems and challenges that your clients might face. The identification of pain issues enables retail ERP companies to develop value proposals and remedies that captivate the targeted audience.
At distinct phases of the client journey, pain points can fluctuate or change entirely.
Actions
Acts are the conducts of everyone in every touchpoint — searches for consumer reviews, and email hyperlinks, newsletter subscription customer service/support contact, etc.
There are thoughts behind these behaviors. It might be in the shape of quotations for first persons, which assist you to comprehend the prospects of any business ERP Analytics at a given time.
Here's an idea of somebody looking for a replacement car on a customer journey map:
Image Source: Market Splash
Why is it vital to create a Customer Journey Map?
It is not easy to map out the client experience, ERP Sales and to address every factor described previously. But it's worthwhile to build one. It is a key step for your company's growth and guarantees that your client base doesn't collapse.
The Customer journey map helps in building a strong and efficient ERP system in the following respect:
Deliver a consistent omnichannel experience
Generate More Income from Clients
Establish a successful and competitive marketing approach
Providing more coherent experience to clients
Conclusion
Customer journey maps are essential instruments that assist you to analyze the selling process of your consumers. If you still have not created a Customer Journey Map yet, then take out some of your valuable time to do so. The data that you obtain empower you to satisfy and surpass the customer requirements of your consumers.
Note that the customer journey map is a blueprint that is living and respiring. Please review these mappings every few weeks or at least once monthly or whenever you strategize to change your products or services substantially.