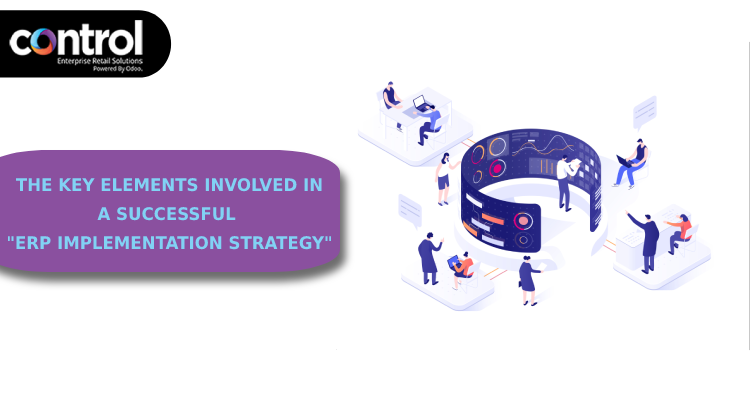 Businesses worldwide have been forced to change their business models thanks to the severe disruptions caused by the pandemic. Organizations are now desperately trying to adapt to the changes with the help of new digital technologies. Among such technologies, one system that has grown a considerable fanbase is the ERP system. While it is convenient software, its implementation process can be tricky.
There will be several challenges along the way, and a company has to understand the key players and elements in the process to implement the software successfully. Wish to know more? Then read on as we discuss these aspects and more.
Challenges Faced During The Implementation Stage
ERP implementation is a complicated process and will affect your entire organization. Here are some of the challenges you might face –
Business sponsors are often left out during the ERP strategy design phase. It makes them think that the new software is too technology-driven rather than a good business enabler.
End-users are not as involved as they should be. It leads to lesser input from their side due to their reluctance and indifference towards the new software.
Companies often end up underestimating the benefits of ERP due to resistance to change. It can limit the expectation of deployment of the software even before the process has begun.
These challenges can seriously harm the successful implementation of the solution. So, here are the three key elements that you have to get on board while designing the ERP strategy roadmap for successful implementation.
The 3 Key Elements Of A Successful ERP Implementation Strategy
Assembling Diverse Resources
The first step in making ERP implementation strategies is to assemble your diverse resources i.e., your employees. They are typically resistant to change because they prefer to conduct their jobs in the same manner they have always done. However, in many circumstances, resistance stems from a lack of understanding of why the change is necessary.
A modular ERP marketing strategy helps your company achieve the speed and effectiveness required to meet digital business objectives. Your implementation team will need to keep an open mind to use creativity and inspiration to link technical decisions with business goals. As a result, putting together an effective team is one of the most important aspects of laying the groundwork for ERP deployment.
It would be beneficial to have a team with a wide range of cognitive abilities. Its members bring diverse cultural norms, communications, processes, and skills to the table. Your team's diversity allows you to build different points of view to achieve breakthrough results.
You can build a diverse team by –
Set expectations for the coming changes
Talking about ERP success benefits to improving motivation
Identifying your key stakeholders
Ensuring your team has people who can think outside the box.
Envisioning The Future Of Your Company
The core of digital business transformation is ERP. It would help if you determined whether your company is ready to embark on an ERP project. The evaluation's findings would highlight the potential for innovation and distinctiveness. Understanding the effort involved in an ERP project is also critical, and this effort remains even after the go-live. From installation to post-go-live, communicating with partners about how ERP deployment will assist the organization in achieving its goals is critical to the strategy's success.
Are you looking for a Qualified ERP professional to help your business?
Schedule Your Demo
Improving The Enthusiasm Among End To End Users
Emotion and passion are the sources of enthusiasm. Most stakeholders would be uninterested in the ERP program and its goals if this did not happen. The success of ERP is also determined by how well you develop an emotional bond with them.
Use a "what's in it for me" approach to illustrate how ERP deployment will benefit them as individuals. It would aid end-users in overcoming disinterest, fear, and resistance by supporting them in understanding the connection between the purpose of the actions they are completing and the organization's goal.
Who Has To Be Involved In The Successful ERP Implementation Process?
Managers
Business managers carry out the leadership function. They must comprehend the ERP initiative's significance as part of your digital company transformation to share their vision and convert the rest of the team into enthusiastic advocates.
Super Users
Superusers have various qualities and attributes, including reputation with end-users and business management, a good outlook, and a commitment to the task. They are ideal representatives for an ERP endeavor because of these characteristics. In addition, they frequently function as change agents to encourage ERP adoption, secure solution ownership, and maintain its integrity after installation.
End Users
End-users actively select and install the system with minimum involvement from the IT department, thanks to the growing importance of postmodern ERP techniques in embracing cloud-based solutions.
An ERP solution is a device for multiple end-users that is supposed to assist them in accomplishing their everyday jobs and fulfill their roles more efficiently. When they observe the early achievements of their colleagues' work, they accept the shift. To guarantee that end-users receive the change, you must build a specific process to support this positive message.
Conclusion
Successful ERP software implementation can be a lengthy process. However, once it does, it can help you improve your overall business and help you grow and prosper. Just ensure you get all your team members, stakeholders, and others on board and keep the three main key elements in mind. So start with the process right away with reliable ERP software. All the best!