Every business unit is in the lure of an easy method to upgrade or update their work. They want a quick solution to reduce workload and save time.
Accumulating data at a single location is a simple solution to save time and improved the management of business activities. This practice eliminates the unwanted pressure building at your workplace.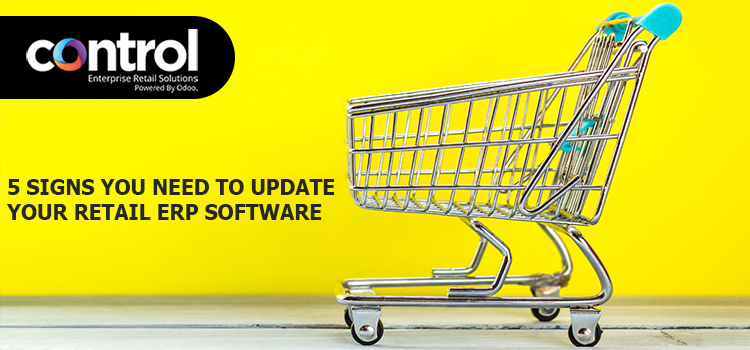 ERP software for retail business is an efficacious solution to manage data and several other business activities.
Here, we have discussed a few significant signs indicating you need to update your retail ERP software-
Understanding the ERP System

Existing System Fails to Communicate

Poor Bills and Prices Management

Lack of Mobile Accessibility

Fails to Analyze Business Needs

Deprived IT Services
Understanding the ERP System
A good retail ERP software can collect all types of data in a firm. For instance, a supermarket can accumulate all the data from auto-order management, inventory system, CRM system, and many other activities. ERP stands for Enterprise Resource Planning.
All this data can be saved in a single system. A unified system makes it convenient for the module to communicate with different modules. This amalgamation provides you regular updates on business-related activities.
A good ERP software can assist you to manage the company in a cross-functional way. This way, you can reduce manual work and unnecessary work-pressure on your staff.
The best retail ERP software is an ideal solution for cross multifunctional companies.
Earlier, businesses required minimal efforts to maintain a product. However, the nature of business has evolved and hence practices have also changed. Your workforce has to put additional efforts to maintain products and streamline activities.
Previously, a team of two-three individuals was sufficient to maintain documents and other records. With increased customers, your business demands an automated process for this task. This is why you need an ERP for retail that can manage your business operations.
Existing System Fails to Communicate
Your retail business may have different systems or modules to carry out tasks related to billing, inventory, customer, and vendor management.
With this business set-up, you constantly have a team that can coordinate and sync tasks, resources, and communication to enable timely delivery. By investing in reliable ERP software, you can manage all this easily.
All these modules can communicate seamlessly through the ERP system. Your team doesn't have to manually login to different systems to check updates. Instead, a single system can inform them about –
Product details

Project updates

Customer status
Your team members can communicate with ease and coordinate activities as per product availability and meet deadlines efficiently. Unclear communication is a significant sign that your business needs to update the ERP system.
Poor Bills and Prices Management
Regardless of whether you are an enterprise of an emerging business, managing bills and prices is a tricky task. This complex task turns more difficult when you don't have updated and accurate information.
ERP software can help you to track the price of the product based on past data. You can also examine the competitor's price and make note of it. This analysis of past data and competitor's pricing can help you to make better pricing decisions.
The system can notify you about the bills to be received and paid. This makes it convenient for you to manage bills for your organization.
Lack of Mobile Accessibility
Imagine you are in a meeting with a client outside your office premises and you need to update another client for an ongoing project.
Well, you don't have the bandwidth to call your team and follow-up. However, this can be done from your mobile within seconds if only you have mobile access to your ERP system.
You can share the updated information from your phone even before you begin your meeting.
Besides, mobile access makes it convenient for your team to share updates about projects while they are on the move. In case, your existing system is not accessible through mobile, it's time to switch your ERP system.
Mobile accessibility allows your team to work from home round the clock even during the pandemic.
Fails to Analyze Business Needs
It becomes difficult for your team to plan actionable strategies when they are clueless about flaws in their previous strategies. Learning about drawbacks in your previous strategies restricts you from repeating the same errors.
The ERP system allows you to skim through the past records note what works for your audience and accordingly prepare a plan of action. You can trace business needs and then design a roadmap to achieve them.
Deprived IT Services
With an increased number of servers and processes, it becomes challenging to manage IT services. The increasing cost of IT services is likely to be a liability for your business.
A retail ERP system can offer you a helping hand and share the load of IT services. It can streamline and automate processes that can ease the task of your staff.
Conclusion
Retail planning is quite essential as it prepares you for future demands. A functional ERP system can release all the stress and help manage retail business activities.
It is advised to approach an experienced ERP team as they can suggest the right model and features required for your business.