When you hear the word Enterprise Resource Planning (ERP), you think of large multinational corporations with complex systems and technologies in place. But, ERP software is not only for large scale corporations.
Small or big, any company that uses multiple software for various processes and wishes to streamline operations can do well with an ERP solution.
Top ERP systems in the USA like Control ERP offer features that benefit your company in several ways. In this guide, we'll help you know more about ERP and what you can expect from it.
What is an ERP System? 
It is common for businesses to use any software to manage various operations. As the name suggests, Enterprise Resource Planning or ERP software integrates all processes onto a single platform.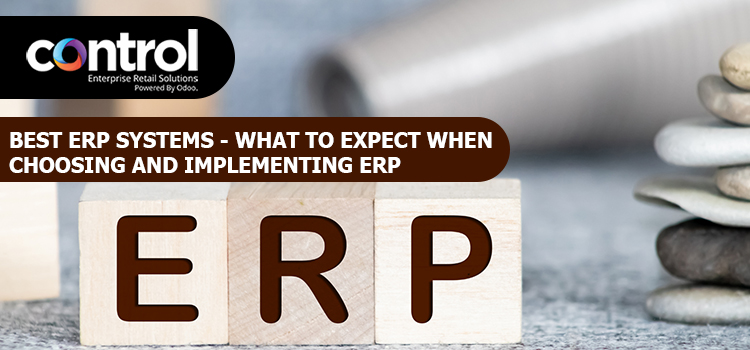 From HR to inventory management and customer relationship management, an ERP solution comes with different features. Plus, the best control ERP systems by Control ERP also offer customization to suit your unique needs. You reap several advantages by implementing it. This includes: 
Centralized data management

Easy access to critical information

Increases operational efficiency

Improves productivity

Enhances collaboration

Better decision making with analytics

Reduced cost of operations

Quality customer service

While this is true, picking and implementing ERP software is complex and taxing. Depending on your business needs and vendor abilities, the process can be time-consuming and costly. This is one reason why businesses delay in getting ERP.
However, understanding its features and knowing what to consider when implementing ERP can help you pick the best, save time and money, and boost business growth. 
Essential Features of ERP Systems
Different ERP solutions come with different features. However, most top ERP systems in the USA come with these modules: 
HR & Payroll
It acts as a central hub for all employee information and enables you to manage recruitment, track performance, initiate engagement activities and payroll, all in one place. 
Inventory Management
With this software, manage inventory across multiple warehouses. From predicting a surge in demand to maintaining the right amount of stock and traceability, the software streamlines all processes. 
Accounting
It enables you to collate financial data from across operations and get a clear picture of revenue and expenses. This helps you make better business decisions. 
eCommerce Solutions
An ERP with eCommerce integrations enables you to streamline customer relationship management, order management, product and inventory management, and logistics. It helps provide a seamless shopping experience for your customers.
Production, Planning, and Supply Chain Management
An ERP software that automates manufacturing processes helps you plan ahead and combat any supply chain issues like rise in demand. With a smooth supply chain, you can serve your customers better and save the company from losses. 
Customer Relationship Management 
With all your customer data available at a single source, production, sales, and customer relationship management teams can anticipate customer needs, track orders, keep customers informed, accommodate demands, and solve customer problems on the go. 
Things to Consider When Implementing an ERP System
In terms of technology, large, medium, and small businesses have different needs. Whatever the size of your business, consider the below-mentioned aspects to select and implement ERP successfully. 
Process Requirements 
Comprehensive planning is a must while making the shift to an ERP system. The first step is to understand your current processes and create a futuristic vision of them.
Covering every business aspect and having a set objective of implementing ERP will help you select the modules or features that are most relevant to your business.
It also helps you determine any custom requirements. You can then choose an ERP solution that fits your distinctive business needs.
Onboarding and Training Support
Any shift in technology consumes time and requires you to train your employees. This ensures smooth functioning post-implementation.
The same is the case with ERP. Because of the varied features, onboarding and implementation of ERP can take weeks or even months, depending on the size and requirements of your business.
Ensure that your ERP partner is an end-to-end solution provider. Not only should they assist you in the planning stage but also support you throughout the process in case of any issues.
Make sure the vendor offers solutions to safeguard crucial data, which is prone to be lost in transition. Also, ask if their team offers training to familiarize employees with the new product and keep up productivity. 
Pricing Models
One of the major concerns, especially for small and medium-sized businesses, is the cost of purchasing and implementation. Depending on your requirements, the cost of ERP can run into thousands of dollars a month.
If you're a large corporation, check the cost of development, onboarding, and training across multiple branches. While small and medium-sized business needs differ, you must weigh the price of ERP implementation against the features and ROI. 
Conclusion
ERP is gaining wide popularity amongst businesses. If you haven't given it a thought yet, it is time to do so to avoid losing the competitive advantage. 
Control ERP offers customized open source ERP solutions to businesses across industries including retail, real estate, healthcare, logistics, and more. They are your end-to-end partners in ERP implementation. Connect with us to know more about open source ERP solutions.