Enterprise Resource Planning or ERP is an advanced integrated business management software that usually gathers, manages, and integrates data in real-time. Having access to an advanced ERP system allows you to leverage massive data and information in full potential.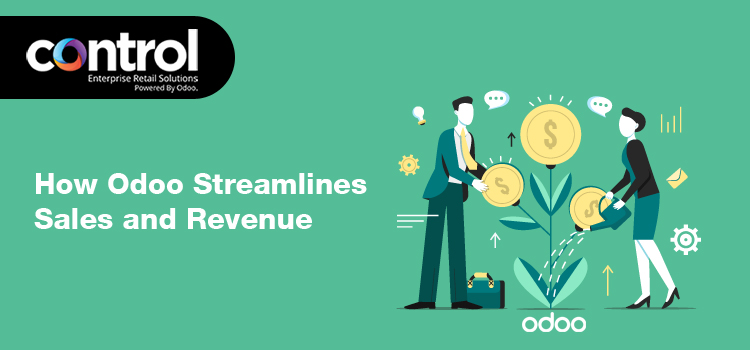 The ERP Sales module helps to implement various functions including placing orders, order scheduling, preparing an invoice, and shipping. You can implement an ERP ERP system, like Odoo, so you can plan your sales. The sales planning helps in managing the product lines to meet your strategic goals.
Implementing ERP Sales
Most business organizations have either implemented or are planning to implement ERP systems. According to Allied Market Research, the ERP software market is estimated to reach $79 billion by 2026. It is growing at a CAGR of 10.2%.
ERP sales and marketing tools streamline sales and marketing activities and allow companies to stay competitive. Furthermore, ERP can also collaborate with the logistics system to improve inventory management software and CRM integration.
In this blog, we will throw light on how Odoo ERP software can increase both sales and revenue processes.
But before that, let's discuss essential Odoo features that allow you to enhance your business features:
Odoo Sales Features
Managing sales
Odoo helps to easily manage and categorize sales orders in a well-structured and hierarchical system. You can also create new orders and review the existing ones.
Customer Relationship Management
Odoo also has a customer relationship management module that helps you to manage your activities, solve bug-related issues, cash the opportunities, and focus on leads. You can also automate many of your activities such as streamlining the communication, prioritizing your work, notification, and identification.
Managing the warehouse
Odoo also supports multiple warehouse management and various stock location systems. You can determine the availability of the stock for each of the inbound and outbound warehouses.
Point of Sale or PoS
Odoo optimizes the Point of Sale management for business enterprises that include different processes such as preparing an invoice, cash register, inventory, etc.
Managing purchase
With Odoo ERP, you can easily monitor the quotations from the suppliers to convert the same into purchase orders.
Enhancing the manufacturing
The advanced ERP system helps to streamline the manufacturing process and its management. It also helps to simplify the planning process, which speeds up the production process.
Odoo ERP solves business challenges
Generating more leads
Odoo is an open-source ERP that allows you to build your website right from scratch. Odoo website builder that provides you with an array of options such as changing the color, size, and font of the website.
On the other hand, you have some venerable marketing and sales features such as the drag-and-drop and add a call-to-action button. If a client submits a proposal for a project, the information is directly stored in the Odoo sales app to be used accordingly.
Managing the Project
With Odoo, managing projects becomes simpler and much more efficient. You can easily track the status of the project, even categorize it into sub-tasks, and assign it to different employees. The Odoo calendar helps you to keep track of the stringent deadlines.
Automation of tasks
With Odoo, the manual tasks have been automated with zero or minimal error in entering the data. For instance, you can automate tasks such as the generation of sales orders and invoices. This also allows saving time where you can focus on more important works.
What else does your business gain
Do you know that Odoo offers more than 5000 modules that you can use to accomplish various tasks? Yes, you can also take advantage of Odoo on various fronts.
You can go through all the details related to sales orders and sales management using a single software application. You can view complete information in real-time.
You can also make quick and appropriate business decisions after analyzing the important sales reports. The reports also help you to forecast and predict the demand for the product in the future.
Odoo also helps to track the future profitability of your organization based on production and sales.
Odoo can decrease time-related to the sales management process, which can lead to effective decision making.
You can also easily manage the entire sales order lifecycle by focusing on post-sales activities.
It helps to reduce the delivery time for the concerned service.
Some other benefits include free licensing, simple integrations, implementation of inventory management systems for small businesses, and a single software accounting system.
Concluding note
Odoo is continuously getting upgraded for higher performance and improved scalability. It allows business enterprises to match the market's competitive scenario by implementing end-to-end ERP and CRM. Control ERP can even gain more flexibility and support business operations.
This module helps in sales planning too. Sales planning determines the sales rates the company must maintain for its product lines to meet the strategic plan.