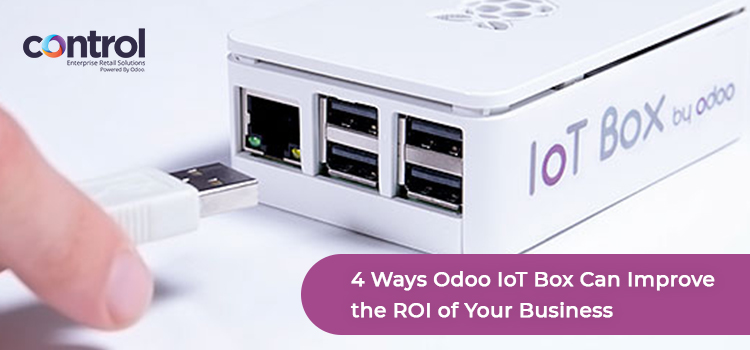 IoT and ERP have become the buzzwords since the dawn of the Industry 4.0 era. They have disrupted the digital landscape of industries through automation and ease of access. 
Odoo, the pioneer of ERP systems, embraced IoT technology in its 12th release and launched the Odoo IoT module. It allows you to make functional use of IoT devices to enhance your business. But first, you have to connect those devices to your ERP system to get started. That's where the IoT Box comes into the picture.
Let me explain to you the basics of the IoT Box before we see its impact on business.
The Odoo IoT Box is a small box that comes with a Raspberry Pi in it. It makes it easier for you to connect IoT devices with Odoo. Basically, this device serves as a point of contact between your devices and the Odoo interface.
The connection is established by means of an ethernet cable or WiFi. Odoo detects the boxes and lets you configure them through the browser.
The flow diagram given below shows the components involved in this system.
Odoo IoT Module Helps Business in 4 Ways
IoT, when integrated with Odoo, can have endless possibilities. In this blog, we will discuss four of them. So let's get started!
Replace Assumptions With Real Data
The principle behind an ERP system is that it will streamline the workflow based on a set of predefined parameters and rules. So it works like a robot.
However, there is always a possibility when things can go wrong. If Odoo is backed by IoT, you will get a good idea of what's happening in your business. This visibility into the business processes can transform areas such as quality and traceability. 
"ERP data should be used as a backdrop for comparing against the truth captured through IoT streams," says Michael Hart, senior product manager at ERP maker, Plex Systems. "When you want to look at operating performance and efficiency across a plant floor, you can analyze them based on real data."
Developing Sophisticated Capture Strategies
In sophisticated production plants, the equipment is prone to failure due to excessive workload. Businesses that run such plants normally gather data at the equipment level or based on the condition of specific parts that are mission-critical or prone to failure. 
Few organizations delve deeper into the connected chains of equipment in a production line or the complete system. This approach is challenging since it requires understanding how data points relate to each other on multiple systems. 
Understanding the relationship between the data generated by IoT devices and Odoo helps plant managers to troubleshoot the problems on a micro level and make better operational adjustments.
For example, the Overall Equipment Effectiveness (OEE) of a plant can be improved significantly. Many manufacturers consider this as the most important metric that determines the stability and profitability of their day-to-day plant operations. OEE measures the performance of a given machine, product line, work team or entire production center. It's calculated using the formula of Availability x Performance x Quality. It can also be used for predictive maintenance of machinery that can be seen in the following graphic:
Source: TechnologyAdvice
Increase Top-Line Revenue
Since the IoT came into existence, businesses have been using it in areas such as industrial automation and condition-based maintenance. But there is more to it. 
The combination of IoT and Odoo has the potential to increase the top-line revenue of business apart from cost reduction or uptime gains. Let's understand this with an example – 
Companies that are involved in field service management (FSM) can use IoT to determine if they are meeting or exceeding the service level agreements with their end users. They can tweak their pricing policies accordingly and improve their top-line revenue.
Better Data Intelligence
The efficiency of ERP systems can be improved when they are connected to IoT devices that use sensors. 
If we talk about the better use of sensor data, it not only involves the staff closest to the sensors but also the senior management and line managers who can make data-driven decisions. Control ERP, a cloud ERP platform developed on the lines of Odoo, can extract data from these sensors and deliver actionable insights to end users. 
IoT can collect data as well as user behaviors. Predictive analysis of such behaviors will allow companies to provide faster service to their customers.
In a Nutshell – 
Odoo IoT module is helping businesses to improve their ROI by interconnecting their enterprise applications. Control ERP can help you to develop valuable IoT boxes and link them to Odoo's framework. So get in touch with us today or schedule a live demo at your convenience.