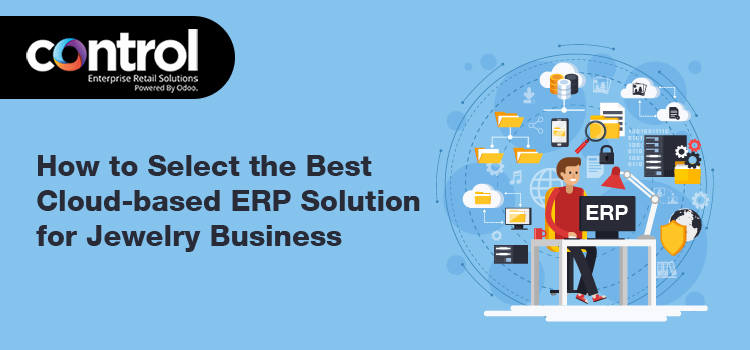 Today, more and more jewelry businesses are taking the e-commerce route to sell their precious stones. Gone are the days when customers flocked to brick-and-mortar outlets to buy their favorite designs.
From product customization to ring engraving, everything can be done online now. While this is convenient for customers, it presents a new set of challenges to the jewelry industry.
Managing inventory, automating the grading process, and pricing are some of the challenges faced by jewelry businesses. A cloud-based ERP solution can be helpful to jewelers who have an online presence.
This blog will educate you about what to consider before buying jewelry ERP software and the important modules present in such systems.
Let's get started.
Important Factors to Consider Before Investing in a Jewelry ERP Software
Deploying an ERP solution is not like ordering some readymade products online. You have to pay attention to many aspects mentioned here-
Technology & Expertise
Many IT companies claim their ERP solution is best in terms of technology and expertise. But don't take their word for it. Cross their capabilities and level of expertise through customer reviews on websites such as Clutch and GoodFirms. Also, ask for a free demo of their solution. This way, you will get a good idea if their solution works well for you.
Readily Customizable
Customization is \important because, at times, you might not need certain modules or features. Besides, the interface design and dashboards should suit your individual needs. In a customizable ERP solution, every feature can be mapped to a particular business process and it is possible to get a complete overview of everything. Ultimately, this helps you to control the nitty-gritty of your business effectively.
On-Demand Accessibility
The ideal ERP software permits the jewelry business to integrate as well as leverage essential data related to customers, suppliers, and others from diverse areas of business. Users can also process vital data to boost efficiency and business profitability to a large extent.
100% Workflow Automation
Diamonds and jewelry is a labor-intensive business. You cannot waste time and effort on repetitive processes. Your chosen ERP solution should be able to automate everything from start to finish. Moreover, it should provide real-time data access to all your vital business data. This will help you gain control of each and every aspect of your business efficiently. Plus, it will also increase the efficiency of various cross-functional teams in your organization.
Are you looking for a Qualified ERP professional to help your business?
Intelligent Reporting
In the jewelry business, accurate and timely forecasts can help you understand what's happening in your business. This helps you to act on the issues promptly. Enterprise Resource Planning software helps you generate your own reports and also drill-down reports on the basis of multiple criteria in real-time. Modern ERP suites are also integrated with a Managed Analytics solution for better reporting.
Data Security
This is a distinguishing feature between an on-premise and cloud-based ERP implementation. Cloud offers a higher level of data encryption that's not possible in on-premise versions. Everything is taken care of by the cloud service provider. You can focus on your business operations instead of data security.
Pricing
Most cloud ERP solution providers operate on the SaaS-based model. You only pay for what you use and usually, there are no upfront licensing costs involved. This proves cost-effective in the long term.
Must-Have Modules in Cloud ERP Systems
Inventory Management
Being a jeweler, you will be dealing with thousands of SKUs (Stock Keeping Units) on a daily basis. The details of all products should be up-to-date at all times.
The inventory management module helps you to –
Adjust the inventory according to the zone, specific product, lot or pallet/box.

Use hierarchical locations to structure your warehouse: rows, zones, shelves, and much more.

Pack or scrap products in just a few clicks.

Control and compare all the incoming products. Crosscheck what you originally ordered from the supplier.
Production & Planning
In the jewelry industry, let's take the example of the diamond grading process. A freshly-mined diamond goes through an extensive cutting and polishing process before it's worn on the customer's finger. Your diamond manufacturing plant managers should be equipped with the right tools to plan and execute such processes.
Triggering quality checks automatically, managing assembly lines, rescheduling maintenance activities, and more can be done by an ERP system. Don't forget to include the 'Production & Planning' module in your ERP suite.
Sales
People buy jewelry on every special occasion and there's no limit to such occasions. Birthdays, anniversaries, weddings, and the list can go on. Your sales team should be able to handle customers and close deals smartly. The order details should be synchronized with the inventory in real-time. Customers should get what they want in a matter of seconds.
The list of modules is long but never think of a jewelry ERP software without these three modules.
A Final Word
You just read how important it is to implement an ERP platform in a jewelry business. If your business doesn't have one, get in touch with the experts at ControERP. They'll understand your unique needs and help you in the best possible way.