The trends have changed, and physical markets have found a great possibility in doing business digitally through e-commerce platforms. If your e-commerce network is expanding, it is time to take advantage of ERP integration.
Adding the sales order, adjusting inventory, and updating product data manually consumes more time and energy. An e-commerce ERP integration becomes a necessity to streamline business operations and process automation.
A reliable and comprehensive e-commerce ERP solution offers complete autonomy to manage data in a centralized platform and avoids making errors in a different company system.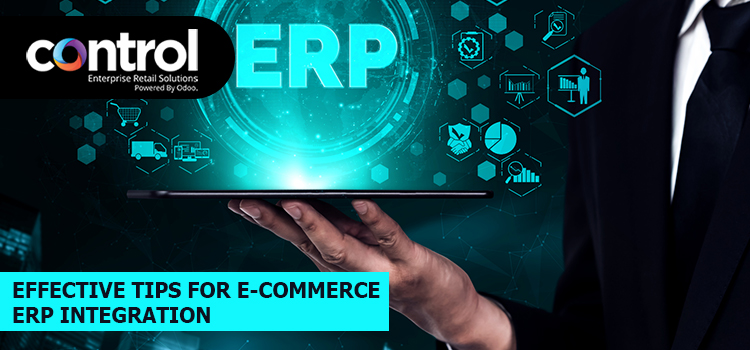 Tips for ERP Integration in E-commerce
Opt for a Complete Integration
Connecting to an e-commerce ERP solution is simple as it instantly takes charge of everything. It looks after all the needs of the company's in-house operations that result in a smooth process. An ERP marketplace integration is for the present and the future as well. Be it business growth or multi-channel expansion, it prepares the software system with the required features.
Data on orders, payments, inventory, and shipments are updated automatically and sent from e-commerce websites to ERP systems. Likewise, data related to product information and its changes, stocks added to inventory, promotion, and offers are updated from ERP to e-commerce.
Select Two-way Integration
E-commerce and ERP integration can be merged in many ways depending on the channels, systems, and the number of repositories a company used earlier. It requires to transfer all the data to an intermediary tool or send from an individual depository to numerous systems.
It is recommended to go for a bi-directional integration since, in this way, the data can be stored and updated in both ways in real-time. It also allows displaying the changes in your e-commerce platform and saves them for later. For example, it can be a picture update for season, festival, country, or promotional day.
Prefer a SaaS Cloud System
The SaaS cloud system is renowned for using APIs that save ample time in the integration process. This makes it fast and convenient for use by team members and is an ideal way for e-commerce ERP integration. This system even functions on real-time updates and allows you to include a bunch of synchronization.
Take the Partner's Expertise
Third-party integrations work on a reliable partnership, and their advice, as an intermediate, is vital in achieving successful integration. Prefer partners with real and high-level expertise to perceive the risks and obstacles beforehand. It schedules, meets, and decides on the company's needs and limitations and emphasizes how the ERP marketplace integration will occur.
Prior experience of the partners will help to ease the difficulties associated with integration. They follow the outlined methodologies to complete the task within the deadline.
Plan a Rigorous Testing Phase
Test phases always ensure the effective management of the processes. There are some companies that forgot to include this crucial stage in their first schedule. Conducting some of the testings will help you discover the problems arising on the way.
These valuable testings need to be done by your team to find out all the loopholes in the software. They should be able to detect the correct way of software integration and identify synchronization errors between e-commerce and ERP.
The company and its employees should acknowledge the new pattern and understand the ERP system's functioning. It must have the training and technical support for the employees. However, some software companies offer extra hours that can be had as a monthly or annual plan.
The team handling the software has to be adequately trained beforehand. Good training will make the team more efficient in running and managing proper synchronization between the e-commerce site, centralized database system, and other channels. Since the tool will be operated daily, teams need to be familiar with it prior to the launch and integration.
Prepare an Integration Framework
Integration is a complex process as it involves various sophisticated measures. An e-commerce ERP integration might be enough for some companies, but for expansion and growth, every business will have to include more options to this integration scheme.
Inventory frameworks need to think about other software systems, like inventory management, order management, or a PIM (Product Information Management) system. This complimentary software system helps swap information between the ERP system and the e-commerce site with information on products, correct stocks, and shipments.
This type of integration is not rocket science but connects the central database to the other channels.
Key Takeaways
ERP integration for e-commerce is a necessity as it enables sustainable growth and development of the business. The various features of ERP integration bring a revolutionary impact on e-commerce businesses and promise growth within a short period.
By working on these tips, you can easily opt for an ERP integration that suits your business framework and operations.