ERP (Enterprise Resource Planning) is a software type used by enterprises to manage their daily mundane day-to-day tasks. ERP solutions offer a wide range of activities, such as procurement, accounting, risk management, project management, and supply chain operations. These ERP solutions provide businesses with an automation experience over their financial results, allowing them to analyze their growth and performance to predict future results.
Further, with some custom ERP solutions, enterprises expose themselves to a multitude level of seamless business processes, allowing them to imbibe the much-needed transparency. Moreover, cloud-based ERP has induced the much-needed aversion in businesses by collecting their shared transactional data and presenting it over one single platform, eliminating data duplication.
Today, ERP Solutions are the blood-line of any given organization that operates around geographies. It has become an essential means to make way to the business world.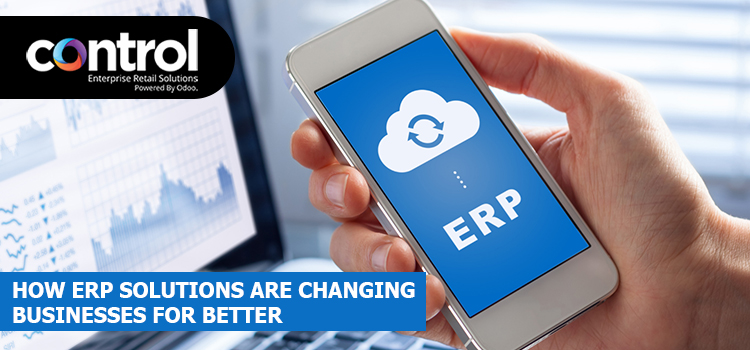 Let's have a look at how these ERP solutions are changing lives for the better.
Real-time Availability of Data
The cloud-based ERP provides manufacturers and distributors across distributed geographies to tap into a single platform and access their data in real-time. With the availability of real-time data at your fingertips, businesses now no longer have to rely on different pieces of tech to have an update over their operations and combine different results for coming up with solutions for improved customer experiences.
ERP Solutions provide businesses with the much-needed visibility across accessing the data at every level of business operation, ranging from the location of orders to the material inventories. Moreover, the data forecasted over the ERP platform is timely and accurate, allowing businesses to operate with minimal loss and acquire the right decisions.
Additionally, ERP software also helps businesses in segregating data that is derived from different levels in the operations and supply chain. With the availability of data in a touch, thousands of different business factors determine acceleration over their processes with varied modules and packages.
Integration of AI into Businesses
The integration of AI in ERP solutions has provided emerging businesses with their desired acceleration. ERP solutions have now become more intuitive and responsive due to artificial intelligence. Today, the manufacturer and distributors can easily get access to cutting-edge tools. This helps them optimize their performance across multiple levels.
Thanks to the presence of AI over ERP solutions, detecting new performance patterns has become easier than ever. The joint efforts of AI and machine learning functionality help users mine all the ERP data with proper insights on the same.
Considering the fact that AI can seemingly improve the performance of a given business with improved user experience and a level of automation, it helps generate value-added opportunities for any given organization.
Seamless Operations over Cloud
ERP technologies provide businesses with an advantage by offering them the functionality to operate without being confined in one place. Companies nowadays find themselves to be an opportunity of multiple advantages by integrating cloud-hosted systems over their platforms.
Having your data over the cloud means that it is handled securely and has maximum security, making it easily accessible at the user's discretion. Having cloud-based ERP solutions saves businesses from investing in resources and time.
Moreover, the present scenario of the market has given way to SaaS ERP solutions, making them more dominating than ever. With the help of such cloud-hosted services, manufacturers and distributors can now get their hands on all the necessary data logs. This reduces the costs of over-sharing distributed channels for different media. So, cloud-hosted ERP solutions are a new trend for more and more manufacturing companies.
Personalized Data Solutions as Per the Need of an Organization
It is a well-established fact that every business, with respect to their shape and size, requires new adaptable working solutions that can cater to their needs. Thankfully, ERP solutions provide users with the same. These software solutions allow the users to get specialized solutions, without having to leave the IT team dominant.
Moreover, when the IT solutions are personalized, businesses get their hands over a standardized form of process, allowing them to rely on manufacturing or distribution industries. This can be done since the functionality of the software can be tailored as per their needs.
Involvement of Finance
A major benefit of adapting to the ERP solution is that businesses get the much-desired financial freedom. Having said that, ERP solutions in a business can be customized easily to help users with currency and cash management besides allowing management of fixed assets.
Conclusion
ERP solutions have been of the most common sight in recent terms. With the Odoo manufacturing module coming into play, moving your business to the next level of management is easily possible. Thanks to the advent of ERP solutions, managing multiple levels of business operations over a single, unified platform.