Not all software systems can manage all your regular business activities. In fact, some of these systems are also prone to making errors. The integration of ERP software for HR and payroll management can help avoid these issues.
ERP software can integrate HR management with other departments of your business so your employees have one unified platform to share information and communicate. The software helps you to simplify all complex business operations and offers you suitable digital solutions.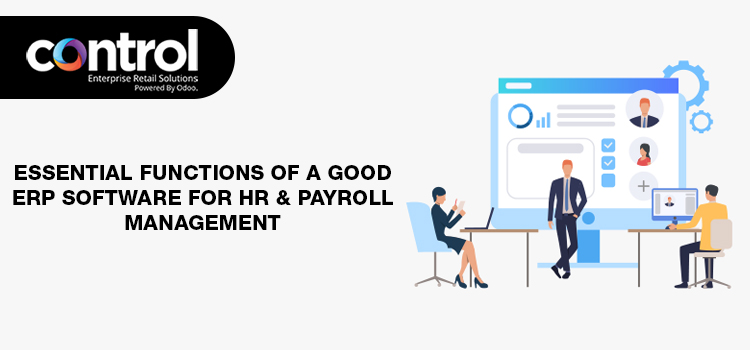 Discussed here are essential functions that are included in a good ERP software-
Improved manpower management
The software offers an opportunity for top-level and middle-level managers to acknowledge the need for manpower.

Managers of each department can recognize the need for manpower well in advance.

This system accepts the request based on the available resources and approves the inadequacy of manpower.

In such situations, the system automatically raises a request for manpower and sends across the same for approval.

The software notifies the same to the human resource department.
Recruitment
The system automates all the difficult tasks involved in this process.

This software can help your firm to recruit the best talent using an effective recruitment process.
Updated employee portfolio
The system helps you to manage personal and professional data of your employees. It also looks after the following legal documents-
Medical card

Passport

Visa

Work Permit

Driving license

Insurance, etc.

This software is helpful for firms that work globally. They can track information and essential details while contracting and hiring employees overseas.

You don't miss out on any validations and renewals.
Orientation
This helps the HR expert to train and assign the right tasks based on their designation.

An effective orientation helps to guide the newly recruited person in the right direction.

The associate staff can help them to perform their role and effectively fit in this position and company.
Training and development
ERP software helps you to understand the potential of your new employees.

You can train them accordingly for your internal and external programs.

The system also evaluates the pre and post performances of your employees.

Their participation and involvement in the project can help determine the effectiveness of your training sessions.
ERP software for HR helps automate monotonous and boring data entry tasks of the human resource department. The manual efforts to manage payroll is automated.
Employees can easily update their academic, personal, and professional details on the software.

HR employees don't have to track and update this information and can save a lot of time and effort.

The HR team can then focus on multiple other tasks such as training and development, manpower planning, track career history, performance appraisal, and other HR activities.
Performance appraisal
The software offers multiple ways to measure employee performance for appraisal.

The check-list method, BARS method, critical incidents method, forced-choice ratings, essay method, and scale rating methods are some of the methods.

You get varied options to choose from to evaluate and validate employee performance.

This helps you to make optimal decisions during appraisals.
Are you looking for a Qualified ERP professional to help your business?
Payroll
ERP software integration with the human resource department enables effective payroll services.

The payroll pattern is designed as per your industry standards.

The system uses company-specific preset formulas to manage payroll services

The human resource department can now manage payroll in a few clicks.
Loan management
The ERP system helps you with a streamlined loan management system for your employees.

Integrate this system with your financial units to automate the loan process.

The system will then allocate the loan via employee payroll or payables.

The software can provide a seamless and systematic loan deduction via payroll.
Time management and leaves
ERP software integration with human resource activities is lucrative

You can acquire a detailed description of the outstanding, accrued, and advanced leaves of your employees.

The system enables an improved attendance system.

You can trace working hours, arrival and departure time, overtime, late entries and permissions of all your employees.
Medical
The software can be programmed as per the nature of your industry.

The software also includes medical reimbursement criteria.

It provides all the necessary medical facilities for your employees.

It also provides life-insurance and medical facilities to your employees and ensures their health security.
Tickets and business trips
This integration helps you to streamline the official trips of your employees.

It also helps to manage family trips that come under paid leaves.

You can manage the home-bound vacations of your employees effectively.

This way, you can allocate accurate funds to your employees based on their trip.
Government relation
ERP software facilitates better government ties and employee management concerning governmental procedures.

You can now manage governmental processes such as work permit, application or renewal of the residential permit, re-entry and exit visas, sponsorship transfers, labor visas, business visas, etc.
Conclusion
This integration of ERP software with your firm's human resource department is lucrative for your business. Irrespective of the nature of your industry, it can offer you improved efficiency in business operations.