As businesses shift to the cloud, the process of marketing requires artificial intelligence or software to share the load. From ordering to shipping, every process includes a bunch of other commercial chores to be fulfilled. These tasks can either be manhandled or need software for zero errors.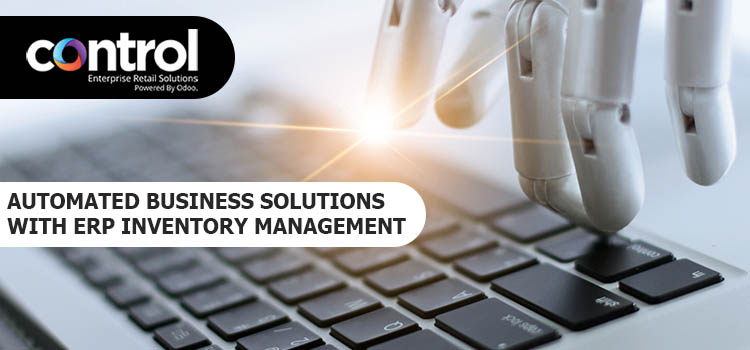 Most businesses are turning to control ERP inventory management for their efficient working patterns and flexibility. Be it storing or dispatching, inventory management helps you do everything at ease.
E-commerce platforms prefer inventory management to keep the work process smooth and fast. If you are not aware of this tech trend, then this piece is exclusively for you.
What Is Inventory Management?
The system of inventory management includes ordering, stock tracking, and dispatching of physical products of business (mostly eCommerce). The core objective of ERP inventory management is to issue alerts and alarms to the management when it's time to reproduce, restock, and reorder products. Incompetent inventory mismanagement can cost you a fortune.
Businesses either stock up a lot of waste capital on unfulfilled sales. A Control ERP inventory management system handles all such aspects without wasting money, time, or stock. You can easily cope up with the inventory issues by applying some safety measures.
Common Challenges Faced by ERP Inventory Management
The absence of inventory management can have disastrous consequences. Your business can experience subsequent minimization. Thankfully, the common inventory issues can be easily solved by switching to an Enterprise Resource Planning system. This system automates and centralizes the supply chain strategies with zero error.
Here are some issues that ERP can fix within a small time frame:
Overstocked inventory

The shortfall of physical products

Expired stock

Stock Popover
Overstocked Inventory
If you deal with seasonal commodities, avoid excess inventory. Overstocked inventory puts too much pressure on sales and can turn into a dead stock. However, stocking fewer products is also unprofitable, as you will run out of stock soon.
So, an ERP inventory management analyzes past sale history and works on getting the proper margin for your business.
Out-of-Stock Inventory
Shortfall inventory will have similar consequences as overstocked inventory. If your product has a high-profit margin in a competitive space, out of stock inventory will make you lose potential clients and sales.
ERP inventory management helps you identify the right stock margins to avoid a crisis. Even if your product stock goes low, an automated emergency message goes out to order more.
Expired Inventory
An expired inventory here means the product that is unsold or forgotten for a long period of time. Expired stocks can be very harmful to your business. It affects your budget resources on two things, first, the product received will not be sold and second, it consumes a lot of storage space.
A control ERP inventory management looks at every minute detail. It keeps an eye on the manufacturing of the product as well as on its expiry date. It also sends out alerts to draw your attention to the expired stock.
Inventory Pop-over
Inventory turnover is vital for knowing when to place an order or manufacture goods. This calculation consumes a lot of time and effort if done manually. Plus, there is a high chance of calculation error. Automation services can ensure your business runs smoothly between the restocking process.
Features of ERP Inventory Management
ERP inventory management boosts a company's growth by managing its inventory and other processes from a solo locale. Here are some vital features of ERP inventory management:
Tracking and managing stocks

Supply chain process management( sales and purchase)

Multiple channels order fulfillment

Automated alerts

Merged with shipping, accounting, and other operating tools

Stockhouse management and commodity transfer
Advantages of ERP Inventory Management
Boosts Overall Performance
ERP inventory management is indeed a time-saving approach. Managing operations from a single location helps in cutting down manhandling and also brings space for automation. Your business will witness significant growth and accurate output in a short time frame.
Transparency
Most e-commerce businesses use outsourced shipping providers for easy dispatching. Controlled ERP software allows you to merge external partners. This makes sure that all the systems are communicating effectively. Information about stock, order, and dispatching gets synced with the entire supply chain.
Valid Data Assemblage
As control ERP inventory management provides updates on orders, stocks, and clients. It enables quality data assemblage. The majority of the systems allow building and recouping customized inventory and sales accounts to elevate sales and performance.
Summary
ERP inventory management is a must for today's businesses on their way to exponential growth. This control ERP software provides a centralized location for merchandising. This software notifies you when the stock is about to finish or expire. If integrated with quality software, it can even process automated bill and stock generation.
If you are facing problems with inventory and supply chain processes, try out automated services of ERP inventory management.