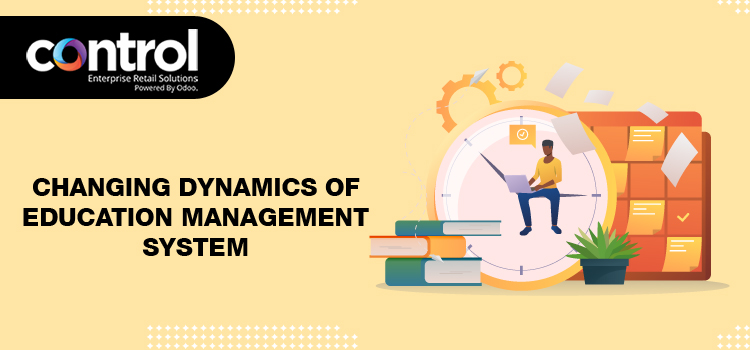 The education sector is in the advent of complete digital transformation. The online education management, e-learning, and flip classrooms will undergo a paradigm technology shift in the coming future.
In today's rapidly evolving electronics market, educational institutions are using ERP solutions for managing, planning, controlling and delivering data effectively.
A school ERP software helps in managing different tasks such as fee and bill management, transportation tracking, and management, library management, attendance management, reports, notifications, alerts, hostel, campus, canteen, admission, etc.
 Let's look into some of the unique features of the ERP solution:
Digitization of complete administrative processes
An education management system integrates all the academic processes in one place, making day to day tasks easier to manage. Using cloud-based ERP solutions like Azure and AWS, businesses can deploy various data over the cloud.
It helps to automate the entire administrative processes from admission to course completion. A cloud-based ERP student management system makes workflow seamless, easy and efficient. It centralizes all the departments and allows staff members to communicate better by helping them to exchange information in a hassle-free manner.
High data storage with disaster recovery
This is one of the most prominent benefits of a web-based education management system. It is obvious that educational institutions generate a huge amount of documentation. To store and manage these documents manually is a tedious task prone to physical damage.
With a Cloud-based ERP solution, institutes can easily store numerous documents on the web without worrying about the data storage capacity. Moreover, with the disaster recovery solution, we can back up the data on a remote offsite server, keep it safe from any kind of damage and recover it without any data loss.
Student management beyond campus boundary
What if student management is not limited to school/college timing?
School ERP software is a solution that increases the connectivity between teachers and students. Students can check assignments via their portals, submit documents whenever needed, access their details, check their results, submit their fees online and do much more. Teachers can use Teacher Portal to check, remark, and upload assignments work, download them for evaluation, track students' academic records, and more.
With the parent portal, parents can also keep track of their child's academic activities, such as attendance details, results, remark from teachers, their achievements, etc.
Student-centric education management
The main objective of an educational institution is to help students develop their skillset. However, due to the increasing number of academic processes, teachers and staff members have a lot to take care of, therefore, it becomes difficult for them to focus on students.
Thanks to the education management systems like school ERP software, this load is taken off of trivial academic operations from teachers, allowing them to invest their time on students and enhance their teaching approach.
It helps institutes to build a student-centric ecosystem, which enhances student performances, improves the productivity of academic management, strengthens the credibility and thereby helps the institute to grow.
Student Behaviour Tracking
A school ERP software not only helps in extracting the students' data but also provides insight and analytical data about their academic performance, attendance and other metrics. From a student's entry into the school to the tasks taken up by them, until the last bell rings, everything has a dedicated spot in this software.
Learn From Your Favourite Subject Teacher
A school ERP software helps manage data related to everyone, including teachers, students, and the administrative staff.
A good school management software ensures better teacher-student communication even after classroom hours. Students can connect with their teacher directly at an online discussion forum to ask any query or learn new concepts.
A cloud-based collaboration
A cloud-based school ERP software facilitates web-based interactive communication. This can help students stay connected with their classmates and enjoy learning together. For instance, there are institutions where student exchange programs take place, which helps them overcome financial and academic barriers to achieve a better education. But, not every student gets to be a part of it. However, school ERP software takes learning beyond the classroom and allows students to interact with people around the globe and exchange ideas.
A school management software promotes collaborative learning as well. Interactive sessions including debates, problem-solving, project discussions, can be organized outside the classroom via web-based learning technologies.
 Conclusion:
Institutions are shifting to digital transformation and implementing education ERP for managing, planning, tracking and controlling all their regular tasks 
This has helped institutes bring better management and efficiency, and save costs. This has enriched the student experience, employee engagement rate, and changed the dynamics of education towards exponential growth.