The latest ERP systems possess easy integration functionality, which makes it convenient for firms to align business processes and applications. It helps business owners to acquire a uniform platform, gain better control, improved data visibility, and fasten the decision-making process.
We have discussed the following in this article-
IoT solutions provide the following benefits
Advantages of ERP Integration with IoT Technology
Over the years, ERP business processes haven't really evolved but their improved functionality has empowered them to smoothen business processes. For instance, ERP integration with IoT technology is a lucrative solution to manage customers and back-office.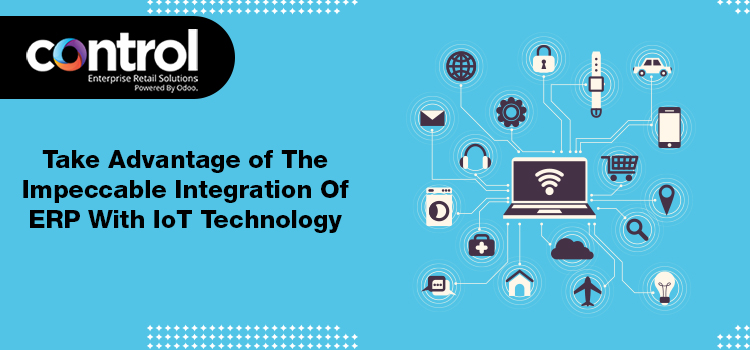 IoT solutions provide the following benefits-
Real-time data sharing

Easy data collection

Acquire actionable insights
Advantages of ERP Integration with IoT Technology-
Smarter and Quicker Decision-Making Potential
Accessibility to quality data helps organizations to make better business decisions. IoT devices provide you a plethora of business information and it becomes tricky to manage this data.
Besides, it is equally important to analyze this information and use it effectively for your organization.
Integrating ERP with IoT helps to record this information in a centralized spot for analyzing and making optimal use. This integration gives you the potential to make rapid business changes as per the current market scenario.
Your workforce can make the most of this quality information and improved business process. It is predicted that in 2020, there will be approximately 26 billion IoT devices connected to the internet.
You waste much less time contemplating and can make progressive decisions based on the facts provided via the ERP system.
Quality Asset Management
Asset management plays a significant role in business development. Fine use of available assets can bring positive results on the path of business expansion. ERP and IoT integration keep you posted about all the asset-related data through the ERP system.
This will help you to evaluate your current and future business circumstances and accordingly design a favorable plan of action.
You can easily share asset facts with your workforce and plan the required replacements and maintenance. Asset management can help you invest in the right business technologies and tools and at the right time.
Modern and functional assets can provide you a unique business perspective. This is why one must invest in the right resources for quality asset management.
Draws Attention On Deep Insights
There are several business aspects that you may unknowingly overlook but can be beneficial for your entity. IoT and ERP integration can throw light on this crucial business information.
It can provide you realistic and updated business whereabouts that can be analyzed and utilized to enhance overall business performance.
This will help your business to be on its toes and amend business activities as per the current and future prospects. This integration also provides business propositions beforehand so that your employees can work on it and make the right decisions.
Amplified Business Efficiency
Most businesses either struggle to manage or occasionally lack operational efficiency. ERP and IoT technologies are two advanced and functional technologies.
Your business can accelerate business operations with an effective intermingling of ERP software along with IoT technology.
The new-age organization can now switch to a technology-based business process instead of the traditional human-based processes. This will have large scale positive implications on your business as fewer human errors and improved business performance is the most beneficial outcome.
This integration eliminates the scope of miscommunication and enables the smooth accomplishment of business processes. Clear and transparent communication is yet another reason for improved business efficiency.
The live updates of business processes help you to quickly remove hurdles (if any) and complete the task within the set deadline.
Futuristic Business Approach
It is tricky to determine customer demands and market scenarios with the current circumstances. Besides, if you make wrong predictions, it creates several challenges on your path of expansion.
Instead, it is wiser to utilize your analyzed data and make smart and impactful business decisions. ERP and IoT integration helps you to improvise inventory, supply chain, and several other business activities.
This integration can help bridge the gap between supply and demand to a great extent. Real-time updates, accurate consumer information, and a vision of future market scenarios can help you to execute effective plans.
You can utilize customer demographics, psychographics, and their buying habits to draft your plan. The frequency of their purchases can help you to plan and introduce new models and attain business objectives accurately and efficiently.
Conclusion
Apart from these, there are several subliminal advantages of ERP integration with IoT technology. This combination can make you limitless and achieve difficult business benchmarks swiftly.
Transform your business with modern-age business tools and technologies. ERP integration with IoT technology is one of them and can open new business avenues for you.