Every industry has a different work format and process. The functioning of a business predominantly depends on the nature of the industry, availability of resources, and the demand.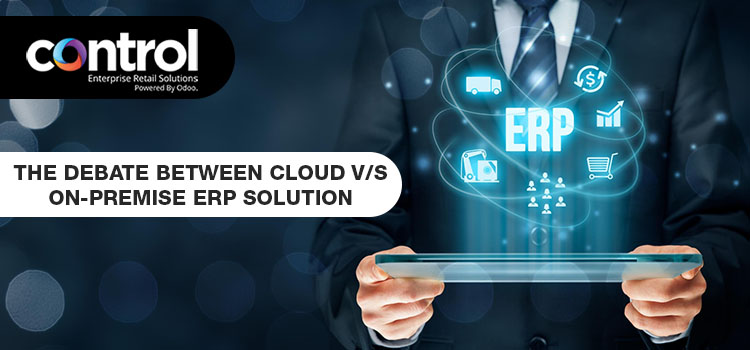 Prioritizing business parameters can help you make the right decision.
When an entrepreneur plans to utilize the ERP software, they may have a series of questions to consider-
What type of ERP system to install in?

Cloud-based or premise-based?

What features and systems to integrate?
These are just primary and most basic questions. As you move ahead in the process more questions are likely to crop in your way.
However, in this piece, we will talk mostly about key aspects associated with cloud-based and premise-based ERP-
What is an on-premise ERP system?
Significant Aspects That Differentiate Cloud and On-Premise ERP
Whether To Choose On-Premise or Cloud ERP Solution?

Let's get started!
What is an on-premise ERP system?
You have to install this system either at your workplace or home. On-premise ERP solutions are more about the physical presence of the system at a particular space in the office.
AN On-premise ERP system does not necessarily need an internet connection. Hence, it can get difficult for you to gain access to the system when you are outside the premises.
The on-premise ERP has a variety of functions that can help you streamline your business operations. Take care of all business activities ranging from sales, production, marketing, finances, and many more.
What is Cloud ERP?
The ERP system with cloud computing services and platforms offer you flexible and revolutionary business processes. Cloud ERP software is empowered with the internet, which allows users to access the system from anywhere, any time.
A majority of these computing resources are licensed and not purchased. This means that they are considerably affordable and less expensive. Several cloud ERP vendors offer business-specific and critical applications suitable for the enterprise.
Even a budding business with the right cloud ERP solution and advanced technology has the potential to set a new benchmark in the industry.
Significant Aspects That Differentiate Cloud and On-Premise ERP
There are several parameters that differentiate the cloud and on-premise ERP. Here are some prominent aspects that can help you understand the difference between the two and make the decision process convenient-
Deployment
For on-premise ERP, deployment is carried on at the workplace within the company's infrastructure. The company is entitled to the responsibility of maintaining the solution and aligned processes.
In the case of cloud ERP, the service provider or vendor maintains the system with the help of the server. The firm provides quick access to the service provider and the solution and processes are easily deployed.
Security
Irrespective of the size of the firm, security is an imperative factor for almost every firm.
Most entrepreneurs believe that an on-premise solution is more secure than the cloud solution. Often, security depends on the solution that is used to protect the data and system. There are equal numbers of chances for data theft for an on-premise solution.
With a robust infrastructure and a secure framework, there are fewer chances of any third party to skimp through your data or system without access.
Reliable network connectivity plays a vital role in a cloud ERP solution. As it adds a layer of additional security to the system.
Command
With an on-premise solution, you have full command over the system. This means that you have 100% privacy to the system, which is one of the key reasons why firms prefer an on-premise solution.
With cloud ERP, you may have to provide access to the service provider. You also have to provide access to employees and several other parties so that they can utilize the data to perform business activities. This can be considered to be a major flaw in the cloud ERP solution.
Mobility
Your business may enjoy a seamless journey with an on-premise solution if your operations are restricted within the workplace. However, if you have branches across the nation or overseas then you may have to make provision for third-party support to utilize your on-premise system.
On the contrary, cloud ERP utilizes the internet for connectivity. This means that you can gain access to your Sydney branch customer details while touring in Miami.
You and your employees enjoy the perks of working within the comforts of your home and all round the clock.
Cost Involved
On-premise ERP solution costs lesser than cloud ERP solution. Since cloud ERP solution consists of improved internet connectivity and functionalities. The overall implementation cost of the cloud ERP is higher than the on-premise solution.
This is yet another reason why some companies prefer on-premise ERP than a cloud ERP solution.
But, they overlook the fact that cloud ERP solution comes with add-on features and functionalities as well.
Compliance
 Most firms have to abide by the regulatory norms. This makes it imperative for organizations to stay updated with their data and remain compliant.
This task can be easily managed with the help of an on-premise system.
With a cloud ERP solution, you have to ensure that the service provider meets all the mandatory regulatory norms prescribed specifically for your industry. This solution offers privacy and security to a customer, partner, and employee data.
Whether To Choose On-Premise or Cloud ERP Solution?
If you are in search of a solution that offers complete control on data, bare minimum dependency on vendors, and reduced implementation cost, then an on-premise ERP solution is an ideal choice.
Usually, construction, manufacturing, and healthcare industries prefer this solution.
In case you are looking for a modern and faster solution that utilizes intelligent technology and robust security, then cloud ERP is the best solution for your enterprise.
Wrapping Up
It is important to have clarity about your expectations from the system. This can help you to narrow down the features and functionalities you want in the system.
Based on these factors, you can make your decision to choose the Best ERP Software for your business. Simultaneously, ensure that the solution helps smoothen your business process and enhance business productivity.